Find Loose Slots... Play Online!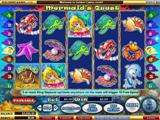 Roxy Palace has some of the loosest slots on the web. Their selection is huge and with less overhead, employee costs and taxes than your typical brick and mortar casino, they can afford to give back a bigger percentages of bets back to the customer. If you're looking for loose slots, play online!
A Huge Collection of Loose Slots!
Online casino slots are loose. Why? Because with the lower overhead, no slot employees to pay, and lower taxes, they can afford to pay more back to their customers. Roxy Palace offers a huge range of casino slots for you to play for fun or for real money prizes. From easy to play 3-reel games and fruit slot machines, all the way through to popular video slots, progressives slots and brand new releases from Microgaming, every game provides a high level of quality.
by Howard Stutz
Las Vegas Gaming Wire
LAS VEGAS, Nevada –- The sale of stock in a rival casino operator helped Las Vegas-based Pinnacle Entertainment reverse a second-quarter loss from


Pinnacle Entertainment a year ago.
The regional casino operator reported a profit of $4.7 million, or 8 cents per share, for the quarter ended June 30. A year ago, the company lost $18.1 million, or 30 cents a share.
Analysts polled by Thomson Reuters had forecast net income of 5 cents per share.
Pinnacle, which operates the Boomtown Casino near Reno but primarily operates hotel-casinos in Louisiana, Indiana and Missouri, said Friday it sold 1.2 million shares in Las Vegas-based Ameristar Casinos for a net gain of $12.9 million.
In a previous quarterly earnings report, Pinnacle said it bought the stock in hopes of pursuing a merger with Ameristar. The failing credit markets and the challenged economy, however, ended that idea.
Pinnacle also said it amended its bank credit agreement during the quarter.
The company's revenue during the quarter was about flat at $266.3 million, driven primarily by improvements at the company's Lumiere Place hotel-casino in downtown St. Louis.
"Our properties performed solidly in the second quarter, achieving improved overall results despite the generally weak economy," Pinnacle Chairman and Chief Executive Officer Dan Lee said in a statement.
Deutsche Bank gaming analyst Andrew Zarnett said the bank credit amendment allows Pinnacle to complete construction of a second casino in the St. Louis area and possibly restart other casino projects, including a second resort in Lake Charles, La., and a proposed casino in Baton Rouge, La.
"We view this amendment as a significant positive, as increased leverage ratio provides the company with ample runway to ramp up River City (St. Louis) and the ability to incur additional debt will allow Pinnacle to resume their development projects which were temporarily suspended," Zarnett said.
Investors seemed happy about Pinnacle's quarterly earnings. Shares of the company were up almost 13 percent in initial trading Friday on the New York Stock Exchange. Pinnacle closed at $10.60, up 97 cents or 10.07 percent.
"The profitability performance remained solid, which suggests margin momentum from the first quarter of 2009 continued," Oppenheimer gaming analyst David Katz wrote in note to investors. "Most important, the amendment to the bank deal provides some flexibility."

Pinnacle Entertainment
3800 Howard Hughes Parkway
Las Vegas, NV 89109
Pinnacle Entertainment owns and operates casinos in Nevada, Louisiana, Indiana and Argentina, owns a hotel in Missouri, and receives lease income from two card club casinos in the Los Angeles metropolitan area. Pinnacle also has two casino development projects in the St. Louis, Missouri area, which are dependent upon final approval by the Missouri Gaming Commission.