LAKE TAHOE, Nevada –– Caesars Tahoe is just months away from officially becoming the MontBleu Resort Casino & Spa and the property has unveiled the names and concepts for its four new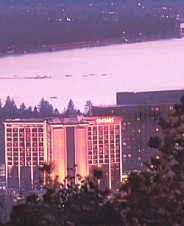 The MontBleu is a popular resort in Lake Tahoe restaurants.
Offering a variety of venues and menus, MontBleu's restaurants hope to set a new standard of sophistication within the Lake Tahoe dining scene. Restaurants will include:
Ciera Steak + Chophouse will offer a stylish and chic dining atmosphere, with an exquisite array of meat, poultry, seafood and vegetarian entrees in addition to 200 wines and champagnes from around the world. Open for dinner only.
Del Soul Mexican Grill will take Northern Nevada south of the border, with its "Nuevo Mexican" dishes, each with its own exotic flavor and zest. Complimenting the colorful menu, del soul will also boast an extensive tequila list and live salsa music. Open for dinner only.
20 Four Continuous Cuisine will be MontBleu's retro take on the 50s diner with a warm, nostalgic feel and a limitless, round-the-clock menu. Open 24 hours a day, this is the essence of comfort food and convenience for guests with any craving, at any hour.
The unbuffet will offer a new perspective on the traditional buffet as chefs prepare fresh ingredients, right before your eyes. Action stations, carving tables and international cuisine will allow guests to taste flavors from every continent and eat to their heart's content. Open for breakfast, lunch and dinner.
"Dining is such an integral part of any resort and we are really proud of the concepts and menus that our staff has developed for MontBleu," said Joe Yung, director of development for Columbia Sussex. "We truly wanted to create restaurants that were unique to Lake Tahoe and we are looking forward to inviting guests in to experience these four very distinct venues."
Caesars Tahoe will officially become MontBleu Resort Casino and Spa in mid-2006. With a 'mountain' of additional announcements to be revealed over the next several months, the 440-room MontBleu will surely mark the redefinition of Lake Tahoe, offering a wide array of sophisticated and contemporary amenities. The property will remain open and fully operational throughout the rebranding and remodeling process.
Caesars Tahoe (MontBleu) is owned and operated by Columbia Sussex.