SPARKS, Nevada -- The City of Sparks and RED Development, LLC has announced that Olympia Gaming LLC, one of Southern Nevada's top real estate and casino developers, will build a casino resort and spa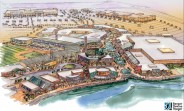 Artist's rendering of Legends of Sparks Marina
as part of The Legends at Sparks Marina outdoor shopping and entertainment destination development. Additional restaurants and retailers recently committed to leasing at The Legends are Brooks Brothers, Cantina Corona, FreedomRoads/Camping World, Off Broadway Shoe Warehouse and Pin-Up Bowl.
"I am absolutely delighted with the news today on the additional tenants that will become part of The Legends at Sparks Marina," said Sparks Mayor Geno Martini. "Today's announcement only reaffirms the excitement and uniqueness that this project will bring to Sparks and the entire region. In particular, Olympia Gaming's new casino, resort and spa will be a first class facility that will go a long way in creating an unmatched and world class destination at The Legends."
Olympia Gaming's $500 million casino, resort and spa will be an upscale destination ideal for visitors and locals alike. The 12-acre project will be situated on Helms Lake and, at full build out, will feature:
1,000 generously-sized hotel rooms and suites, each appointed with rich amenities and featuring lake and mountain views
A spacious casino including a wide array of slots and table games, a tournament-style poker room, and a state-of-the-art race and sportsbook
Five fine dining and casual restaurant venues
A high-end spa, fitness center and salon facility
Private beach and swimming pool
Lakefront amphitheater and water show
A large-scale convention and meeting facility
Abundant surface and garage parking
"This is a tremendous opportunity for the City of Sparks to raise its flag as a true tourism destination," said Chairman and CEO of Olympia Gaming Garry Goett. "We've worked hand-in-hand with city officials and RED Development to create a resort destination that places The Legends at Sparks Marina on the map for tourism to this region. I envision constructing a spectacular resort that attracts visitors from all over the West."
Phase one of Olympia Gaming's new casino, resort and spa will include 500 rooms and is scheduled to break ground in early 2007 and open in late 2008 or early 2009.
Destination development is an emerging trend in retail development which combines retail, one-of-a-kind entertainment and attractions, activities, learning opportunities, and unique dining options to facilitate an experience in which customers are participants. Unlike a typical shopping center that draws visitors from within a 10-mile radius, the uniqueness of this destination development will attract most of its visitors from more than 100 miles away, with more than 10,000 visitors expected each day.
The plans for The Legends also include a minor league baseball stadium. RED Development continues negotiations with a top sports management company to bring a minor league baseball team to Northern Nevada. RED Development's design for The Legends at Sparks Marina includes a minimum of 800,000 square feet of retail space and is estimated to cost up to $400 million.
The Legends at Sparks Marina is located at the intersection of Interstate 80 and Sparks Blvd. Construction is scheduled to begin this fall and The Legends at Sparks Marina is scheduled to open in spring 2008.