Club USA Casino Has Great Slots!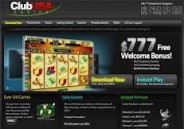 In addition to a wide selection of slots games, Club USA Casino features poker, blackjack, baccarat, keno, craps, roulette and progressives jackpots. Newly released slots include Coyote Cash, Funky Monkey, Enchanted Garden, Jackpot Cleopatra's Gold, Monster Mayhem, Realm of Riches, and Ronin Play any of the Video Slots plus Keno and Scratch Cards and receive a 100% bonus up to $777, using coupon code: BIGSLOT. And the best news is the casino accepts US players and the deposits are easy to make.

Bob Dancer: The Best in Video Poker Products
Bob Dancer is the foremost expert in the field of video poker today. His website offers video poker players a great resource for information, products and access to classes and seminars. Whether it's articles about video poker strategy, ordering video poker cards, books or software or signing up for Bob's popular video poker training classes, you'll find what your looking for on his site.
BVS Video Poker
You can download the latest version of the BVS Video Poker training software, find product news, and read testimonials from satisfied customers at the BVS Video Poker website. BVS also produces excellent solitare software that is available for download.
Jean Scott's Queen of Comps
Jean Scott, the Queen of Comps, is best known for encouraging smarter casino gambling and that's why we are happy to encourage you to visit her site. Her practical suggestions will save you time and money in your quest to make your time in the casino more fun and profitable.
vpFREE Video Poker Hall of Fame
The leading lights of video poker are given their due at vpFREE's Video Poker Hall of Fame. Two of our favorite authors, Bob Dancer and Jean Scott, are recognized along with other notable contributors to the world of video poker. To check out the who's who of video poker see vpFREE's Video Poker Hall of Fame.
Video poker combines elements of poker with the ingenuity of the slot machine. It requires strategy and decision making. If you study the game and know how to play the different video poker variations, you can boost your odds considerably. To get going, read ReadyBetGo's Guide to Video Poker or read the latest video poker strategy. You can also check out the history and rules of video poker, or browse the best in video poker training software.
To get you started, here is the introduction to the ReadyBetGo! Guide to Video Poker .
Introduction to Video Poker
by
Basil Nestor
If you like to gamble, and you like to win, then video poker is a better game than slots. Simply, it's easier to beat. There is no hidden house edge, no secretly tight machines. Each draw is from a freshly shuffled (virtual) deck.
Best of all, video poker is one of the few casino games that has a positive expectation. That's right. Play the right machine, long enough, in the right way, and video poker is mathematically guaranteed to pay back more than it takes in.
But that doesn't mean you should quit your job to go play video poker. The effort required to earn a steady income as a gambler is a full-time job itself. On the other hand, it's fairly easy to play a near-neutral game (pushing the edge to just above or below zero). Add the value of comps, and video poker can be a ticket to a free or nearly free vacation.
It's a brainpower contest that pays.
If you know poker then the fundamentals of video poker will be familiar. There is a hierarchy of hand ranks (see the next section) and a draw, but beyond that you should forget everything you know about the table game when playing the video version. You can't bluff the machine, raise, or call. There's no pot. The game deals you five cards. You can keep all of them, some, or none. Replacements are dealt as necessary. The revised combination is your final hand. Winners are paid according to a pay table posted on the machine.
The most basic game is jacks or better; any hand with a pair of jacks or better is a winner. Other versions make deuces or jokers wild (they count as any card the player requires). Wild-card games typically raise the minimum winning hand to kings or better, two pairs, or three of a kind. Multiple-hand games allow you to repeat the same starting cards three, five, ten, fifty times, or more. Each time the draw is different.
Whatever the game, the play remains essentially the same; receive five cards, draw, the result is your hand (or hands).
Buttons on a video poker machine are similar to those on a slot machine except that "Spin" is replaced by "Deal," and each card has a "hold" button. In addition, most video poker machines use touch screens; just touch the cards to hold them.
Some players become excited and forget to hold cards when they're dealt a royal flush or another perfect hand before the draw. One more press of the deal button does not bring a big payout, but five more cards. Ouch! Be sure to press the hold button for every card you intend to keep. The screen should acknowledge your choice.
The next article in this series is Ranking the Hands in Video Poker.