More Frugal Gambling
by Jean Scott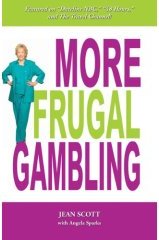 More Frugal Gambling is Jean Scott's long-awaited sequel. In the inimitable warm and reassuring style of the 'gambling grandma,' Scott reveals a further five years' worth of casino experience and exploits. More Frugal Gambling includes extensive coverage of slots, video poker, slot clubs, casino promotions, and couponing, as well as practical advice on keeping money safe, gambling and taxes, and casino security. Scott continues to be a media staple, appearing regularly on the Travel Channel.

Tax Help for Gamblers
by Jean Scott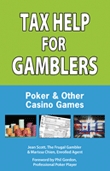 Tax Help for Gamblers deals with the innumerable nuances and gray areas of gambling and taxes. It covers all the whys and wherefores of this complex subject, including tax-code specifics, record-keeping, filing your tax return, state-tax considerations, and audits and other tax problems. Numerous charts and forms help you see the practical application of the information. This book is for recreational and professional gamblers, including low and high rollers, table-game and machine players, video poker and live poker players, online enthusiasts, international and cruise ship players, and people who live or gamble in states with income taxes.
Over the years many players have asked me: What should I do about those W2G's when I hit a big jackpot at a casino? What gambling records does the IRS require me to keep? What is a gaming diary? Is

Jean Scott is known as the "Queen of Comps" and encourages smarter casino gambling. She appears on network and cable TV, especially on the Travel Channel. Her down-to-earth practical suggestions will save you both time and money in your quest to make your trip to the casino more fun and more profitable. Jean's website is www.queenofcomps.com there a possibility I am paying more taxes on my gambling wins than I need to?
Yes, players have had so many questions about taxes and gambling that I decided a couple of years ago to research the subject and write about it. I planned to make it a chapter in my book More Frugal Gambling. However, I found the subject so complex that I asked my accountant, a gambler herself, Marissa Chien, to join with me and help with the technical details. Our efforts have become Tax Help for Gamblers, a whole new book on its own.
I found that most gamblers (and many tax preparers themselves) had erroneous ideas about taxes. "Paying taxes on my gambling wins? You've got to be kidding. Sure, sometimes I win, but my losses are always much larger than my wins by the end of the year. So I don't have to mess with it on my federal or state tax returns."

Wrong! You probably should "mess with it," especially if you hold any of the following common but MISTAKEN beliefs:

I can lump together all my wins and losses for the year and, if I have a net loss, I don't need to put wins or losses on my income tax returns. After all, I didn't have any gambling income.
The IRS can't "catch" me, even if I win a lot of money gambling, as long as it's done slowly over a considerable period of time in different gambling venues and I get no official forms like a W-2G or 1099.
Federal and state tax agencies know most gamblers lose over the long term, so they aren't very interested in auditing gamblers.
If I don't get any W-2Gs, I don't have to report any gambling wins on any income tax forms.
If I do get a few W-2Gs, I can just count that total as my gambling income for the year and be safe in an IRS audit.
This faulty thinking needs facts. Tax Help for Gamblers covers the basics, discussing why gambling wins must be reported on your tax return, what a gambling session is and how it can vary depending on personal circumstances and the games played, and what player record-keeping is necessary. Samples of my own gaming diary are included.
Covered in the book are the following topics:

Casino win/loss statements and why the courts have ruled that these cannot be your only records if you are audited
Tax implications of cashback, comps, tournaments, and casino drawings
Filing as a recreational gambler or professional gambler; (providing sample tax returns to help you make the decision on which way you should file)
Information for the table game and slot player and live poker player, and for those who form gambling partnerships
Federal tax regulations and requirements
An entire section on state taxes, with a chart giving information for residents of all 50 states and/or visitors who gamble out of their home state.

The IRS stresses that you cannot add up all your winning sessions and all your losing sessions and give a net win/loss figure at the end of the year. Since many states follow the federal reporting form, but do not allow deductions for gambling losses, many gamblers are taxed heavily on the state level. Tax Help for Gamblers discusses how this leads some gamblers to file as professionals, although that is an area fraught with danger.