Following the rise of digitalisation, increased numbers of casino operators have sought to focus on branching onto mobile platforms. From a business standpoint, it's clear to see why this approach

There are occasions when we here at ReadyBetGo want to bring you interesting facts about the gambling industry When something catches our eye, we will publish it for your enjoyment.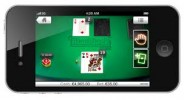 Blackjack on a mobile phone has come to the forefront, with 79 per cent of adults in the UK owning a smartphone in 2019, as per Finder.com. In many ways, this alteration is indicative of the mobile-orientated outlook that has developed not just in Britain, but also across the globe. So, let's consider whether mobile-optimised applications provide a more immersive experience than desktop browser alternatives.
The Convenience Can't be Ignored
Fundamentally, the widespread decision to crossover onto smartphones and tablets comes as a result of the ever-growing popularity of mobile gaming within the UK. As per a study by Statista.com, user penetration in this sector is forecast to grow to 31.5 per cent by 2025. Interestingly, this represents a 1.3 per cent growth over the next five years.
Crucially, much of this new-found success is attributable to the accessibility and convenience of mobile gaming. While, of course, there are numerous advantages to using a desktop browser to play the latest casino games, there are no wired limitations to mobile platforms. In turn, this creates a more user-friendly experience, and this is one of the reasons why mobile apps have surpassed traditional websites, according to WhizSolutions.co.uk.
This access-related development has since become part of the criteria that contemporary casino operators are judged on. At 777casino.co.uk, which is a review site of the most highly-rated casinos, a number of their listed bonus-offering platforms have optimised their developments to cater to the on-the-go gaming movement. For example, 888casino has created an Android and iOS-friendly application at which prospective players can use their sign-up bonuses across their array of titles, including Irish Riches and Starburst.
What About the Shortcomings?
In reality, the sheer practicality of mobile-optimised applications should mean that playing on wireless devices is an easy decision. However, it's not quite that simple. Despite the rising popularity that surrounds phone and tablet gaming, there are numerous advantages to playing on a desktop browser.
First and foremost, of course, is the prospect of enjoying the latest games on a far larger screen. Although advancements have enabled for smartphone screens to be projected onto monitors and televisions, the streaming quality is often dependent on network connection strength. In this regard, it's generally less troublesome to play on a standard desktop.
Furthermore, another factor that should be considered concerns about market options. Although many contemporary operators have crossed over into the wireless world, not every platform has optimised all of their desktop offerings onto their respective mobile applications. In turn, to have access to the full extent of a website's opportunities, desktops offer an unrivalled experience regarding title choice.
Which is Best?
Ultimately, deciding between a mobile casino and a desktop alternative is down to personal preference. Because each has its advantages and disadvantages, it's essential to consider what it is that you're looking for from a casino. If accessibility and on-the-go gaming is something that you long for, however, then there's no competition as mobiles dominate from a convenience standpoint.