LOS ANGELES – As reported by Poker Listings: "The Hustler Casino in Los Angeles is working on expanding its facilities by adding enough space to allow up to 20 more gaming tables and more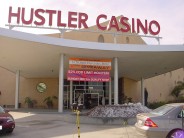 The Hustler Casino is 15 minutes from Long Beach. room for tournaments.
"Construction on the approximately 5,000-square-foot project began in June and is expected to be completed by mid-October with the space opening for use later that month or early in November.
"Larry Flynt, the casino owner, said, 'I'm expanding the gaming floor so I can offer you more of what players demand. More tables, more action and more service.'
"What that will mean for tournament players is an opportunity for larger tournaments at the casino as well as more service and more comfortable space.
"The Casino decided to expand its gaming facility to accommodate increased demand. Al Underwood, Hustler Casino Marketing, said the additional space will have the following uses in order of importance: live gaming, tournaments, and corporate and social events.
"'Within the crowded Los Angeles gaming market, Hustler Casino has not only continued to increase its market share, but through its aggressive and targeting marketing and advertising campaigns has actually grown the customer base in the L.A. area,' Underwood said. 'This, combined with the continued popularity of televised gaming, has allowed Hustler Casino to be the casino of choice for novice and first-time local gaming enthusiasts. Additionally, when visiting, players now know that they can count on the always-important mix of consistently outstanding service, great variety of games and consistently lucrative jackpots and cash giveaways.'"
Hustler Casino
1000 West Redondo Beach Boulevard
Gardena, CA 90247
Phone: (310) 719-9800
Toll Free Phone: (877) 968-9800
Website: www.hustlercasinola.com

The Hustler Casino has over 90 poker tables with a great variety of games. There are also player-banked blackjack tables.