Online Progressive Slots!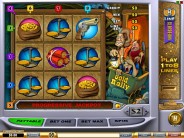 Casino Tropez participates in a wide-area progressive with other Playtech software casinos. They have a wide variety of progressive slots with coin-in from nickels up to $5 slots. Some of the popular titles are Gold Rally, Magic Slots, Safecracker, and Diamond Valley. For great progressive slot action online slots are worth a try!
CALIFORNIA – As reported by the San Francisco Chronicle: "In most parts of California, mention the word progressive and people start thinking politics. In the world of gambling, however,


Megabucks is the most popular wide-area progressive played today. a progressive means something much different: a slot machine with the potential to win you millions.
"Progressive machines are a group of identical slots linked together by a network. Because the machines are connected, their jackpots are, too. While ordinary slot machines usually don't pay more than $50,000 at a time, progressive slots can make you a millionaire instantly. As more people play progressive machines, the jackpot grows accordingly.
"The downside of this setup is the odds. The more machines included in a progressive network, the smaller the chances of winning will be.
"…Wide-area progressives, on the other hand, are linked together across completely unrelated casinos.
"…Almost 50 of the wide-area progressive slots in the Bay Area are operated by International Game Technology, a slot machine manufacturer based in Las Vegas. Ed Rogish, vice president of marketing for the company, says the games are called MegaJackpots, and notes they're like the lottery, only a considerably better investment…"