LONDON, England -- Leading online poker room CelebPoker.com has bowed to popular demand and will shortly relaunch its acclaimed series of live off-the-wall poker tournaments across the UK and Europe.
After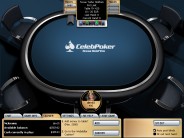 taking a few years off to concentrate on their popular online poker business, CelebPoker is returning to it roots - live poker!
Renowned for their glitz and glamour, in the early noughties, CelebPoker's live events were a hazy mix of skill, fun and wild after-show parties that were hugely popular and attracted celebrities from all walks of life. Including the likes of Teddy Sheringham, Victoria Silvstedt, Nick Leeson and Brian McFadden to name but a few.
CelebPoker are convinced that the nation's obsession with celebrity culture will mean the new poker series will be bigger and better than ever.
"I've lost count of the number of people who have asked us to bring back CelebPoker's live poker tournaments," said David Donovan, Chief Executive Officer of CelebPoker.com. "The game's become too serious. We want to bring back the fun into the live arena. Imagine this: one minute you're playing against your mates in the pub, the next minute you're sat next to rogue trader Nick Leeson trying to work out if he's bluffing. Now that's what I call poker!"
Negotiations are taking place with some of Europe's leading casinos and venues, with a schedule set to be announced over coming months. Players can certainly expect to be entertained as they experience the celebrity lifestyle alongside big names from the world of sport, film, music, business. And of course, poker!
Players can expect all the strong competition and quality for which CelebPoker.com is renowned, with the chance of winning big money cash prizes. Initial planning is being directed by the company's own team to ensure that the venues are carefully selected to exceed the required standards. Interested casinos are advised to contact Head of Live Events Julian Bewley while planning is still under-way.
"We don't do things by halves, so when we announce the schedule, it will feature a series of tournaments that poker players want to be part of," added David. "We believe you can have a great time playing poker without taking life so seriously. And we're looking to put a smile on the faces of our players; apart from when they need to be poker-faced of course."
For further information, please contact Julian Bewley, Head of Live Events at CelebPoker, on +44 (0) 1244 679 660. Interested casinos, potential partners, suppliers and players please contact as soon as possible to avoid disappointment.

Celebpoker.com
European Union
Website: www.celebpoker.com

CelebPoker.com has unique software that looks, sounds and feels like your right there at the tables. You have the option of playing your favorite style of poker anytime and anywhere you wish. CelebPoker.com offers a wide range of Poker Games for Free, such as Texas Hold'em, Omaha, Omaha Hi/Lo, 7 Card Stud, 5 Card Draw, Freerolls, Poker Tournaments offering prizes as high as €250,000, Ring Games, Cash Games including Sit 'n' Go Tournaments for the Free Players to the High Rollers, Poker Leagues, Free Poker School, €1000s in Weekly Freerolls and Loyalty Programs, BlackJack is now available at CelebPoker.com.