Roxy Palace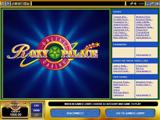 Roxy Palace features plenty of user friendly games with realistic design and crisp, exciting play. The casino has more than 100 slots including 3-reels and 5-reels with multiple paylines, as well as bonus feature slots. There are lots of video poker games. Table games include Blackjack, Roulette, Craps, Baccarat, Let Them Ride, Tri-Card Poker, and Casino Hold 'em.


UK Gambling Commission
The Gambling Commission, the new independent regulator for gambling in Britain, was formally launched on 1 October 2005. The Commission also provides independent advice to government on gambling in Britain.
LONDON -- As reported by the UK Financial Times: "Britain hopes to persuade the offshore centres that are reaping the lion's share of the explosion in online gambling to sign up to new controls


The United Kingdom wants stricter controls on offshore gambling centers. on the sites.
"Tessa Jowell, the culture secretary, told the Financial Times she would host a summit in October to try to get international agreement on a new code of practice.
"Centres that host online gambling sites include Gibraltar, the Cayman Islands, the Turks and Caicos Islands, Antigua and Costa Rica.
"The government plans to invite the International Monetary Fund and World Trade Organisation, along with ministers from all the main offshore gambling jurisdictions.
"However, Britain could face an uphill task in persuading offshore centres to put at risk a lucrative source of revenue by imposing much tighter regulations…"