This is your Luckity day!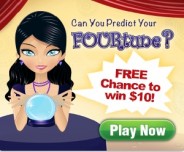 Luckity is a new website operated by the Churchill Downs Corporation and offers US players a safe and legal way to bet online. Luckity has a large variety of games, and accounts are easy to set up. The games are unique as they are based on the results of horse races around the world. After you fund your account, pick your lucky numbers and see your results. Check out the $250 weekly sweepstakes!
UK Gambling Adverts May Carry Health Warning
Thursday, April 27, 2006
LONDON, UK -- As reported by the Independent: "Future adverts by casinos, betting shops and internet poker sites may have to carry warnings about the dangers of gambling, under rules being drawn up by the Government before the lifting of the ban on advertising in the gambling industry next year.

"Under last year's Gambling Act, gambling operators will be allowed to advertise in all media from September 2007. Tessa Jowell's Department for Culture, Media and Sport and the Gambling Commission have recently proposed new rules for the industry to promote 'socially responsible gambling'.

"The new code, akin to the rules surrounding advertising for alcohol, seeks to pacify critics who fear the new gambling laws will lead to a surge in gambling addiction.

"...The Gambling Commission said it was considering whether adverts should carry warnings to discourage loss-chasing as in some countries, messages such as 'know your limit, play within it'..."