HOUSTON -- Nevada Gold & Casinos today announced that Tioga Downs opened the new 19,000 square foot gaming facility on July 4, 2006. Approximately 10,000 visitors enjoyed 750 video gaming machines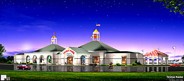 The Tioga Downs facility.
achieving $343.00 win per unit. The facility's other entertainment offerings opened last month with a new 90,000 square foot grandstand, restaurants, lounges, arcades, entertainment, retail, live racing and simulcasting. The grand opening celebration of Tioga Downs gaming will be on July 10, 2006. Tioga Downs is located in the Southern Tier in Nichols, New York, near Binghamton.
John Arnesen, President and Chief Operating Officer of Nevada Gold & Casinos, Inc., commented, ``Tioga Downs gaming opened beyond our expectations. We received great reviews by the customers and we anticipate a robust summer as we introduce our gaming product to the marketplace. We believe gaming makes this facility a complete entertainment experience with harness racing, live entertainment, great food, and now gaming.''
Nevada Gold & Casinos, Inc., through its subsidiary Nevada Gold NY, Inc., owns a 40% membership interest in American Racing and Entertainment, LLC. American Racing owns 100% of Tioga Downs Racetrack, LLC, which owns the Tioga Downs Racetrack in Nichols, New York.
Nevada Gold & Casinos Inc.
3040 Post Oak Boulevard
Suite 675
Houston, TX 77056
Phone: (713) 621-2245
Fax: (713) 621-6919
Website: www.nevadagold.com

The company owns the Colorado Grande Casino located in Cripple Creek, which consists of a casino with approximately 220 slot machines, a restaurant, and 44 parking spaces. The company also owns River Rock Casino which features 1,600 slot machines, 24 table games, and 2 restaurants. In addition, the company has 51% ownership of Route 66 Casinos.
Tioga Downs Racing, Gaming and Entertainment
2384 West River Road
Nichols, NY 13812
Toll Free Phone: 888-WIN TIOGA or (888) 946-8464
Website: www.tiogadowns.com

Tioga Downs offers the excitement of harness racing, the thrills of video lottery gaming, the up-beat atmosphere of a state of-the-art sports bar and the fine food and spirits.