NICHOLS, New York – As reported by Press & Sun Bulletin: "Even without its video slot machines open, Tioga Downs off Route 17 drew more than 15,000 people to its opening weekend.
"Whether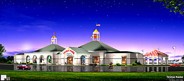 The Tioga Downs facility. they were diehard horse-racing fans, couples from out of town or local newcomers, spectators said they will definitely come back.
"'They've made the investment. The place looks great. There is no reason it shouldn't go,' said Ray Pennoyer, who traveled 20 miles from LeRaysville, Pa., with his wife, Penny, on Sunday. 'The horse racing, off-track betting and slot machines together make this place a nice package. There is no venue like it in the immediate area.'
"The Pennoyers, who have been to numerous gambling facilities in the South, said they have already made plans to be at Tioga Downs at 10 a.m. on June 28 when the gaming area opens.
"As visitors walked through racino doors and into a rotunda, they could peek inside a room on the left to find dozens of slot machines packed inside a gaming area that was roped off to keep them from entering.
"But the rest of the racino -- an indoor simulcast, County Fair Buffet, Coasters Sports Bar, outdoor grandstand and tent -- bustled with children carrying balloon figures from the Amazing Improv Dads performance as their parents scribbled notes inside their programs with pencils during the races.. . . "
Tioga Downs Racing, Gaming and Entertainment
2384 West River Road
Nichols, NY 13812
Toll Free Phone: 888-WIN TIOGA or (888) 946-8464
Website: www.tiogadowns.com

Tioga Downs offers the excitement of harness racing, the thrills of video lottery gaming, the up-beat atmosphere of a state of-the-art sports bar and the fine food and spirits.