Mystic Dragon Slots Cast a Spell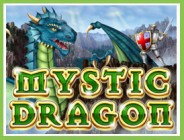 Club USA Casino's Mystic Dragon Slot is a 25 line / 5 reel video slot transporting you to a fantasy land of castles, dragons, knights and beautiful princesses. Ancient scrolls, treasure chests, and fire-belching volcanoes add to the mystery. Get ready to fight the dragon to win more spins and huge jackpots.
HOUSTON -- Nevada Gold & Casinos, Inc. (AMEX:UWN) today announced that the New York State Lottery has approved a license to operate 750 video gaming machines at Tioga Downs Raceway. The June 28,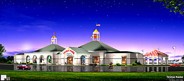 The Tioga Downs facility.
2006 opening of the new 19,000 square foot gaming facility represents the final step of Tioga Downs. Earlier this month, Tioga Downs celebrated the opening of a new 90,000 square foot grandstand, bringing restaurants, lounges, arcades, entertainment, retail, live racing and simulcasting to the Binghamton and surrounding areas.
John Arnesen, President and Chief Operating Officer of Nevada Gold & Casinos, Inc., commented, ``The gaming facility is one of the key components of Tioga Downs, and we are very happy to mark the completion of this process with such a compelling entertainment offering. Since Tioga Downs' opening weekend we have seen attendance exceed our expectations, and we believe that the opening of our gaming facility will further enhance the appeal of this premier entertainment destination.''
Nevada Gold & Casinos, Inc., through its subsidiary Nevada Gold NY, Inc., owns a 40% membership interest in American Racing and Entertainment, LLC. American Racing owns 100% of Tioga Downs Racetrack, LLC, which owns the Tioga Downs Racetrack in Nichols, New York.
Tioga Downs Racing, Gaming and Entertainment
2384 West River Road
Nichols, NY 13812
Toll Free Phone: 888-WIN TIOGA or (888) 946-8464
Website: www.tiogadowns.com

Tioga Downs offers the excitement of harness racing, the thrills of video lottery gaming, the up-beat atmosphere of a state of-the-art sports bar and the fine food and spirits.