LOUISVILLE, Ky. - Churchill Downs Interactive has announced the launch of Luckity.com, the first website in the U.S. offering fun games online with a chance to win huge cash prizes in a safe, secure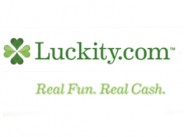 Luckity is a new legal website created by Churchill Downs with a wide variety of games. and legal environment.
Luckity.com uses patent pending technology to offer numbers games, draw games, jackpots, quick picks, and more, all with hundreds of chances to win cash prizes every day. The games on Luckity.com are associated with live horse races across the world, and winning numbers are based on the actual real-time results of those races. Players win when their selected numbers match the numbers of the winning horses.
Luckity.com also offers free games, such as Luckity Bingo, that enable players to win cash prizes via weekly sweepstakes.
Churchill Downs Interactive President Ted Gay said that CDI has been working on the Luckity concept for months and is eager to release it to the public.
"We are very excited to provide this opportunity for individuals to play online and win cash prizes in a completely safe and secure environment," Gay said. "Luckity.com plays like popular social games that so many people love, but instead of winning virtual currency or points, players on Luckity.com can win real cash."
Luckity.com's Vice President of Marketing Eric Hartness said that Luckity.com is launching with over 20 exciting games with plans to introduce new games and features regularly.
"Players can play games for as little as 10 cents and have the opportunity to win jackpot prizes. In addition, Luckity.com gives players a free bingo game that awards Clovers that can be used to enter weekly cash sweepstakes," Hartness said. "We have a lot more under development and look forward to rolling out new games and features to our players frequently."
Luckity.com is operated by Churchill Downs Interactive, a division of CDI. Churchill Downs Interactive also operates TwinSpires.com, the official online wagering site of the Kentucky Derby and CDI. Luckity.com and Twinspires.com are licensed by the Oregon Racing Commission.
Luckity is a new and exciting gaming site with hundreds of chances to win cash prizes daily. It offers lottery or slots games that you can play from home. Featuring numbers games, draw games, jackpot games, quick picks, casino style games, and more, Luckity is legal in the United States and licensed by the Oregon Racing Commission. Luckity is owned by Churchill Downs Inc., home of the world famous Kentucky Derby.