Internet Gambling
by J. Phillip Vogel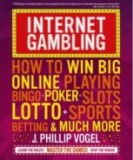 Subtitled 'How to Win Big Online Playing Bingo, Poker, Slots, Lotto, Sports Betting, and Much More ,' Internet Gambling consists of twenty-three engaging and descriptive chapters where Vogel demystifies and dissects all topics related to Internet gambling, including the history of online gambling, how to get started, choosing the best sites, understanding the various kinds of software available, the technical difficulties one might expect to encounter, managing money, and more.

Online Ace -- A World Series of Poker Champion's Guide to Mastering Internet Poker
by Scott Fischman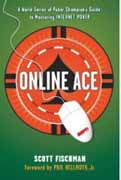 Written by a WSOP champion specifically aimed at online players, as well as those hoping to make the transition from computer games to live games. Few have made that transition as successfully as two-time World Series of Poker champion Scott Fischman. Here he shares his expert insight, money-making tips, and priceless strategies for Internet poker, giving readers instruction that can be put into practice immediately. Fischman's success on the live tournament circuit is a testament to the value of Internet poker (which he still plays for more than 10 hours a day).