Online Poker
by Doyle Brunson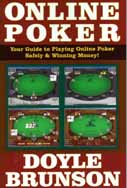 Poker's elder statesman teaches the novice what to expect in the world of online play including providingmore than two dozen poker strategies and identifying online 'tells.' In a dozen concise but well-illustrated chapters he discusses the impact of televised poker and how online poker now ushers in a new era. One chapter offers a list of places to play with information on where you may learn to play or discuss the game and the benefits of online learning. Brunson discusses how to download software, fund your account, and how to get a taste by playing small money before advancing to bigger.

Killer Poker Online
by John Vorhaus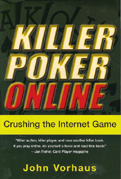 Vorhaus has contributed much to poker via the written word, much of it dealing with the mental part of the game. In this book he continues that slant, bringing a perspective to the online poker game not yet researched by others. His initial advice is to scrap your live-game strategy, which he follows with advice on how to develop a killer Internet game. He includes information on the common pitfalls an dbankroll cripplers, online tells, your margins of error and the intensity of the accelerated pace. In two chapters (The Dark Side and Pitfalls) he discusses cheating, collusion--how to detect it and what to do about it--and the problems with random number generators. However, even though he deals with these subjects, most of the book deals with learning how to play and beat online poker.
Recommended Online Casinos
ReadyBetGo has a simple philosophy when it comes to
gambling online
. We recommend reputable casinos that feature excellent
online casino software
, a large variety of playing options, good bonus offers, superior customer service, and a secure wagering envirionment.