Online Poker
by Doyle Brunson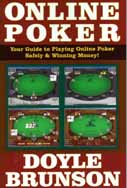 Poker's elder statesman teaches the novice what to expect in the world of online play including providingmore than two dozen poker strategies and identifying online 'tells.' In a dozen concise but well-illustrated chapters he discusses the impact of televised poker and how online poker now ushers in a new era. One chapter offers a list of places to play with information on where you may learn to play or discuss the game and the benefits of online learning. Brunson discusses how to download software, fund your account, and how to get a taste by playing small money before advancing to bigger.

Internet Poker
by Lou Krieger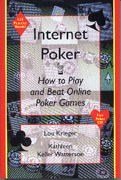 Playing Internet poker in real time against real opponents has become a popular pasttime. Whether for play money or real money, the game offers an environment of virtual tables, player icons, specialized computer alogorighms that randomly shuffle the cards so it seems as if you are in a real poker room. It's a world where you can find a game day or night, but it's poker with a dofference. This book tackles the differences between live action and Internet action and includes a CD with poker software plus 125 interactive hands to help prepare you for plaing Internet games.
Recommended Online Casinos
ReadyBetGo has a simple philosophy when it comes to
gambling online
. We recommend reputable casinos that feature excellent
online casino software
, a large variety of playing options, good bonus offers, superior customer service, and a secure wagering envirionment.