Internet Poker
by Lou Krieger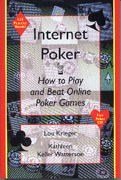 Playing Internet poker in real time against real opponents has become a popular pasttime. Whether for play money or real money, the game offers an environment of virtual tables, player icons, specialized computer alogorighms that randomly shuffle the cards so it seems as if you are in a real poker room. It's a world where you can find a game day or night, but it's poker with a dofference. This book tackles the differences between live action and Internet action and includes a CD with poker software plus 125 interactive hands to help prepare you for plaing Internet games.

How to Beat Internet Casinos and Poker Rooms
by Arnold Snyder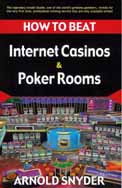 Who better to teach you how to beat the online casino and poker room than a man who has been beating land-based casinos (at blackjack) for decades? Snyder reveals how you can make money olnline without any special skills, mathematical ability, super memory, difficult systems to work or eve a big bankroll. Looking at this as easy money, he explains methods of play that can multiplay your bankroll many times with little risk. The 2/3 of the book cover all the major games and promotions while the last third focuses on poker.