Internet Gambling
by J. Phillip Vogel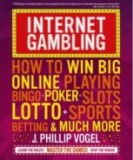 Subtitled 'How to Win Big Online Playing Bingo, Poker, Slots, Lotto, Sports Betting, and Much More ,' Internet Gambling consists of twenty-three engaging and descriptive chapters where Vogel demystifies and dissects all topics related to Internet gambling, including the history of online gambling, how to get started, choosing the best sites, understanding the various kinds of software available, the technical difficulties one might expect to encounter, managing money, and more.

Poker on the Internet
by Andrew Kinsman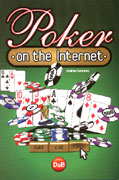 Whether you are a newcomer to online poker or already play regularly, this book will provide you with the information you need to survive in the Internet poker jungle. Topics covered include choosing an online cardroom, comparison of online and live play, collusion and cheating, improving your play online, newsgroups and more. The author is an online poker addict who has spent the last year researching this book while playing online poker. He is also an international chess master and author of several popular chess books.