HOUSTON, Texas -- Nevada Gold & Casinos, Inc. (AMEX:UWN), today announced that the New York Lottery has approved a temporary license to operate video gaming machines at Vernon Downs Racetrack.
John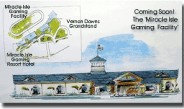 Artist's rendering of Vernon Downs plans Arnesen, President and Chief Operating Officer of Nevada Gold & Casinos, Inc., said, ``The receipt of this license is another important step in the redevelopment and expansion of Vernon Downs' entertainment offerings. We believe the video gaming facility will be a significant draw for our guests, and as such we are pleased to announce the advancement of our licensing efforts. We continue to make progress in our efforts to open Vernon Downs and remain hopeful that we can introduce this new and greatly improved racing venue and resort to the region in the very near future.'
Nevada Gold & Casinos, Inc., through its subsidiary Nevada Gold NY, Inc., owns a 40% interest in American Racing and Entertainment, LLC. American Racing owns 90% of Vernon Downs Acquisition, LLC, which owns the Vernon Downs Racetrack in Vernon, New York. The other members of American Racing are Southern Tier Acquisitions II, LLC, TrackPower, Inc. and Oneida Entertainment LLC, each holding 20% membership.
Nevada Gold & Casinos Inc.
3040 Post Oak Boulevard
Suite 675
Houston, TX 77056
Phone: (713) 621-2245
Fax: (713) 621-6919
Website: www.nevadagold.com

The company owns the Colorado Grande Casino located in Cripple Creek, which consists of a casino with approximately 220 slot machines, a restaurant, and 44 parking spaces. The company also owns River Rock Casino which features 1,600 slot machines, 24 table games, and 2 restaurants. In addition, the company has 51% ownership of Route 66 Casinos.