Club USA Casino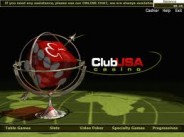 Club USA Casino is one of the top five online casinos welcoming US Players. The site is powered by Realtime Gaming software and features over 300 slots and games. Some of the popular slots include Aztec's Millions, Naughty or Nice and Rudolph's Revenge. if you play any of the Video Slots plus Keno and Scratch Cards you will receive a 100% bonus up to $777 using the coupon code BIGSLOT. Or play Blackjack, Video Poker, Casino Poker and more and receive a 100% bonus up to $150 using the coupon code NEW100.
ARKANSAS -- As reported by the Columbus Dispatch: "Patrons at Southland Park Gaming and Racing plopped more than $92 million into 'games of skill' in the first six months after the renovated greyhound


Southland Park Gaming and Racing now has over 800 video gaming machines. track and gaming parlor reopened last fall.
"The games at the $40 million track in West Memphis, Ark., are not gambling devices under that state's law because they require skill to spin electronic wheels to match rows of bars, fruit or playing cards.
"Ohio supporters of similar games hope to hold on to a favorable ruling from Attorney General Marc Dann about the legality of the machines. They suffered a setback last week, however, when Dann threatened to revoke a May 22 agreement with Castle King LLC because the company objected to the public release of a consultant's analysis of its Match 'Um Up game.
"...The company has hundreds of machines waiting in warehouses for shipment around the state if Dann approves. It hinges on the attorney general's initial opinion that winning one of the games in question is a matter of at least 51 percent skill, rather than mostly luck, which would render it illegal under Ohio law..."
Southland Gaming and Racing
1550 North Ingram Boulevard
West Memphis, AK 72301
Phone: (870) 735-3670
Toll Free Phone: (800) 467-6182
Fax: (870) 732-8335
Email:
info@southlandgreyhound.com
Website: www.southlandgreyhound.com
Located 10 minutes from downtown Memphis, in West Memphis, Arkansas, Southland Gaming and Racing offers greyhound racing along with over eight hundred electronic games of skill including electronic poker and blackjack.