ALBERTA -- As reported by CBC News: "Alberta's first aboriginal-run casino is weeks away from opening as construction on the $178-million River Cree Resort and Casino wraps up more than two months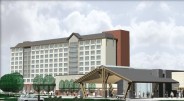 The River Cree Casino in Alberta is opening two months ahead of schedule.
ahead of schedule.
"The complex, which opens at the end of October, is located on the Enoch Cree Nation reserve at the southwest edge of Edmonton.
"Robert Morin, the president of the Enoch Casino Corp., hopes as many as 200 Enoch Cree will be hired in the next month. So far, 5,000 people have applied for the resort's 700 to 800 jobs.
"…Of the nearly 300 construction workers who were hired for the project, 30 were Enoch band members — an important boost to the community given the unemployment rate on the reserve is nearly 65 per cent.
"By the time workers finish putting in the gaming room's 600 slot machines and 40 gaming tables, the casino will be a third larger than the city's largest gambling operation, Yellowhead Casino.
"…Gambling revenue will be shared amongst the Enoch Cree Nation, the Alberta Lottery Fund, the band's business partner, Las Vegas-based Paragon Gaming Inc., and Alberta's other First Nations."
River Cree Resort and Casino
Whitemud Drive and Winterburn Road
Enoch, AB
Canada
Phone: (780) 470-6050
Website: www.rivercreeresort.com

The new River Cree Resort has been designed includes a four-star full-service 256 room Marriott hotel, a 62,000 sq. ft. casino with 600 machines and 40 table games, conferencing facilities, world class food and beverage including a high end steak house, a 24 hr cafe, full-service buffet, and a live entertainment bar/lounge.