COLORADO SPRINGS, Colorado -- Century Casinos has reported that the doors are open to its new Century Casino & Hotel in Edmonton, Alberta, Canada.
The new Century Casino & Hotel in Edmonton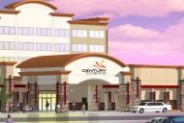 The Century Casino in Edmonton is now open.
opened the 35,000 square feet of gaming floor with 31 gaming tables and 588 slot machines, as well as two bars, two restaurants and a show lounge. An additional 12 slot machines, one bar, one restaurant, a dinner theater and the hotel with 26 rooms will be operational before the Christmas season.
Alberta Gaming Minister Gordon Grayon and the Managing Director of the resort, Geoff Smith, welcomed the invited guests, followed by the cutting of the red ribbon by Century Casinos Co CEOs Erwin Haitzmann and Peter Hoetzinger.
The opening day also featured a charity event for the benefit of the Edmonton Food Bank, a non-profit organization dedicated to the collection of surplus and donated food for the effective distribution, free of charge, to people in need in the community. Furthermore, the opening program included performances of a Chinese Dragon Dance group and the show All the Rage in Dallas at the Casinos Mingles show stage.
On its first weekend of operation, the Casino generated an average win/slot/day of Can$520 (ca. US$450), an average win/table/day of Can$1,400 (ca. US$1,220) and an average food & beverage revenue per day of Can$22,900 (ca. US$20,000).
The grand opening festivities for the general public will be held this coming weekend, starting with a gala on Friday that includes the Canadian Classic Rockband PRISM live in concert, free non-alcoholic beverages and complimentary restaurant selections as well as a dinner theatre tickets give- away and cash drawings. The local radio station CISN 103.9 will be broadcasting live from the casino from 5:00 pm to 8:00 pm.
"We are very pleased with the successful opening and the results of the first weekend of operations and are looking forward to our next big event, the grand opening of our new casino facility for the Century Casino Newcastle, formerly Monte Vista Casino & Conference Center, in Newcastle, South Africa, on December 2, 2006," said Co CEOs Erwin Haitzmann and Peter Hoetzinger in a joint statement.
Century Casinos Inc.
1263 A Lake Plaza Drive
Colorado Springs, CO 80906
Phone: (719) 527-8300
Fax: (719) 527-8301
Website: www.cnty.com

Century Casinos is an international casino operator located in Colorado. It owns and/or manages casino operations in the United States, South Africa, the Czech Republic, and international waters.