LAS VEGAS -- Pinnacle Entertainment (NYSE: PNK) announced that L'Auberge du Lac Hotel & Casino, a $370 million Texas Hill Country-themed resort in Lake Charles, La., broke ground yesterday on a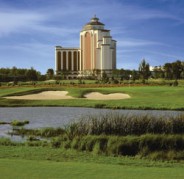 L'auberge du Lac Hotel & Casino
$45 million hotel tower expansion, slightly more than a year after the elegant casino resort opened to the public. The additional 250 rooms and suites will be complete in Fall 2007.
The new tower will be nine stories tall and will be connected to the existing 26-story hotel tower, bringing the total number of rooms, suites and villas at L'Auberge to approximately 1,000. The hotel tower expansion project is expected to boost L'Auberge's employee count to more than 2,250.
The expansion project will feature expanded retail space, a VIP lobby, VIP lounge and a VIP elevator providing private access to the tower's new luxury second floor suites.
The expansion project's ground floor will feature nine luxury garden suites with private terraces. Some of the new suites will face the swimming pool area, while others will feature private outdoor spas.
The garden suites will feature many of the same high-end amenities found in the L'Auberge villas, such as luxurious bathrooms, custom designer furnishings and in-room bars. Each ground floor suite will be nearly 1,200 square feet in size and allow L'Auberge to attract a high-end customer accustomed to
Las Vegas
-style gaming amenities. The new tower's second floor also will be dedicated to suites.
"Calcasieu Parish has proven to be a superb location for a premier destination resort, and L'Auberge's success has validated our initial investment of $370 million in this market," said Daniel R. Lee, Pinnacle's Chairman and Chief Executive Officer. "We are excited to break ground today on L'Auberge's new hotel tower, and look forward to further enhancing Lake Charles' destination appeal when we begin construction on Sugarcane Bay in 2007."
L'Auberge Vice President and General Manager Larry Lepinski said, "Bringing our total room count to approximately 1,000 makes L'Auberge more competitive in attracting larger groups for state and regional mid-week conferences and meetings. This will also allow us to be better able to satisfy customer demand for rooms on the weekends. The additional rooms and retail space will create even more jobs for Calcasieu Parish."
Pinnacle Entertainment
3800 Howard Hughes Parkway
Las Vegas, NV 89109
Pinnacle Entertainment owns and operates casinos in Nevada, Louisiana, Indiana and Argentina, owns a hotel in Missouri, and receives lease income from two card club casinos in the Los Angeles metropolitan area. Pinnacle also has two casino development projects in the St. Louis, Missouri area, which are dependent upon final approval by the Missouri Gaming Commission.
L'Auberge du Lac Hotel & Casino
777 Avenue L'Auberge
Lake Charles, LA 70601
Phone: (337) 395-7777
Toll Free Phone: (866) 580-7444
Website: www.ldlcasino.com

L'Auberge du Lac has one of the largest single-level riverboat casinos in the world, complete with 60 table games and over 1,600 slot machines. The hotel features 750 rooms, including suites and villas.