Mystic Dragon Slots Cast a Spell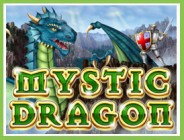 Club USA Casino's Mystic Dragon Slot is a 25 line / 5 reel video slot transporting you to a fantasy land of castles, dragons, knights and beautiful princesses. Ancient scrolls, treasure chests, and fire-belching volcanoes add to the mystery. Get ready to fight the dragon to win more spins and huge jackpots.
Golf course architect Tom Fazio has been considered, awarded, even anointed by various experts as the best living golf course architect. His design for Squire Creek near Ruston was immediately selected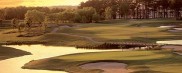 Contraband Course by Golf Digest as the best course in Louisiana.
"So there is a natural curiosity to see what he has done with Contraband in Lake Charles.
"Combine the excellent golf course with the first class L'Auberge du Lac casino, and it's no wonder the place is already pulling in big crowds from the eastern third of Texas every weekend.
"...Contraband's most challenging holes are in the middle of the course, holes 7-12. All six holes are 400-yard par 4s except for No. 10 which is a 611-yard par 5.
"The most scenic hole is the short par-4 14th hole. The driving area is wide and flat. The approach shot is something out of a landscape painting. The green sits on top of a hill framed by tall trees and bunkers.
"…The 18th has a Jack Nicklaus touch. The raised dogleg fairway is framed by traps much like the 11th hole at the Nicklaus designed Country Club of Louisiana. Surprise! The two-tiered sloping green is fronted by a bunker.
"The effect at Contraband is the ultimate compliment: 'Hey, I want to play that course again.'
"The course is hard and easy all at the same time, but fun to play.
"Believe it or not Fazio fans, the most expensive weekend green fee is around $85. Prices fall for hotel guests, seniors, weekday play and twilight play. Call (337) 395-7777 or visit www.ldlcasino.com."

L'Auberge du Lac Hotel & Casino
777 Avenue L'Auberge
Lake Charles, LA 70601
Phone: (337) 395-7777
Toll Free Phone: (866) 580-7444
Website: www.ldlcasino.com

L'Auberge du Lac has one of the largest single-level riverboat casinos in the world, complete with 60 table games and over 1,600 slot machines. The hotel features 750 rooms, including suites and villas.