BILOXI, Mississippi -- Guests at the Isle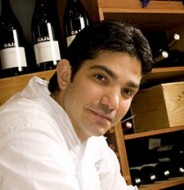 Luke Palladino signs with Isle of Capri for new eatery.
of Capri (Nasdaq: ISLE) will soon have a new culinary delight to intrigue their palettes. Accomplished chef Luke Palladino has been signed to create the Isle of Capri's newest restaurant, Bragozzo (bra go tzo). The signature restaurant offering an unparalleled experience of an Italian Osteria (or local eatery) and wine bar is scheduled to open this fall at its Biloxi, Miss. property with a second restaurant opening in early 2007 at the company's racino in Pompano Park, Fla.
Palladino's newest venture for Isle of Capri underscores the Isle's emphasis on providing customers a memorable experience that includes unique, upscale gourmet dining with a familiar hometown atmosphere. Palladino has been the mastermind behind other culinary successes including the Onda Ristorante at the Mirage Las Vegas and Specchio and Ombra at the Borgata Casino & Spa in Atlantic City.
Palladino, an award-winning chef who was voted "most likely to succeed" by his fellow students at the Culinary Institute of America in Hyde Park, N.Y., spent three years immersed in the culture of Italy's varied regions, working in restaurants throughout Rome, Piemonte, Puglia, Friuli, Sicily and Tuscany. Upon returning to the United States he continued to work with some of the most well-respected chefs in the nation.
"Luke is bringing us his passion for culinary excellence and distinctive style enhancing our fine dining options. With Bragozzo, Luke will create an enchanting experience that appeals to the discerning tastes of our guests," said Tim Hinkley, president and chief operating officer at Isle of Capri.
"After launching various restaurants, I saw in the Isle a chance to develop something entirely new," said Luke Palladino, a New Jersey native who has a fondness for Southern living. "The dining experience at Bragozzo will bring together two teams that are dedicated to creating lasting memories."
"Safe Harbor" Statement under the Private Securities Litigation Reform Act of 1995: Statements in this press release regarding Isle of Capri Casinos' business which are not historical facts are "forward-looking statements" that involve risks and uncertainties. For a discussion of such risks and uncertainties, which could cause actual results to differ from those contained in the forward-looking statements, see "Risk Factors" in the Company's Annual Report or Form 10-K for the most recently ended fiscal year.
Isle of Capri Casinos
600 Emerson Road
Suite 300
St. Louis, MO 63141
Phone: (314) 813-9200
Toll Free Phone: (800) THE ISLE
Website: www.islecorp.com

Isle of Capri Casinos, Inc., operates 13 casinos in 11 locations. The company owns and operates riverboat and dockside casinos in Biloxi, Lula and Natchez, Mississippi; Lake Charles (2 riverboats), Louisiana; Bettendorf, Davenport and Marquette, Iowa; and Kansas City and Boonville, Missouri. The company also owns a 57 percent interest in and operates land-based casinos in Black Hawk (two casinos), Colorado. Isle of Capri's international gaming interests include a casino that it operates in Freeport, Grand Bahama and a two-thirds ownership interest in casinos in Dudley, Walsall and Wolverhampton, England. The company also owns and operates Pompano Park Harness Racing Track in Pompano Beach, Florida.