Club USA Casino Slots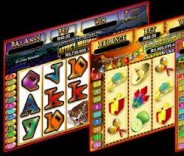 Club USA Casino has a huge variety of slot machines, enough to satisfy any slot fanatic. The casino has over 300 video and classic slots to choose from including 7 progressives. You can play as little as a penny per spin all the way up to $5 per line. There are 3 and 5 reel slots, with play up to 25 lines. Some of the outstanding video slot titles are Aztec's Riches, Mister Money and Vikings Voyage. Popular classic slots include Bank on It, High Rollers, and Lucky Lightning. With great variety, fantastic graphics, and innovative themes, Club USA slots are a good thing.
WATERLOO, Iowa -- As reported by the Waterloo Cedar Falls Courier: "Good news for people who just can't wait to gamble their money at the new casino going up south of town: The Isle Casino and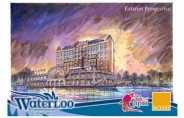 Artist's rendering of the Isle of Capri Waterloo Hotel will open a day ahead of schedule, on June 30.
"Don Hoth, chairman of the Black Hawk County Gaming Association, made the announcement to the association at its meeting Tuesday. He said he just found out earlier in the day.
"...The doors to The Isle will open to the public at 7 p.m., Hoth said. There will be an invitation-only grand opening ceremony two hours earlier, at 5 p.m., but Hoth encouraged those people to get there early because parking, and traffic, could be a problem. If past casino openings are any indication, people could start showing up as much as six hours before the public opening, waiting to get in, he said..."
Isle of Capri Casinos
600 Emerson Road
Suite 300
St. Louis, MO 63141
Phone: (314) 813-9200
Toll Free Phone: (800) THE ISLE
Website: www.islecorp.com

Isle of Capri Casinos, Inc., operates 13 casinos in 11 locations. The company owns and operates riverboat and dockside casinos in Biloxi, Lula and Natchez, Mississippi; Lake Charles (2 riverboats), Louisiana; Bettendorf, Davenport and Marquette, Iowa; and Kansas City and Boonville, Missouri. The company also owns a 57 percent interest in and operates land-based casinos in Black Hawk (two casinos), Colorado. Isle of Capri's international gaming interests include a casino that it operates in Freeport, Grand Bahama and a two-thirds ownership interest in casinos in Dudley, Walsall and Wolverhampton, England. The company also owns and operates Pompano Park Harness Racing Track in Pompano Beach, Florida.