Stretch Your Bankroll Online!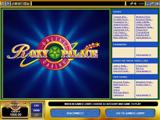 Roxy Palace can really help you stretch your casino bankroll. The casino has games with more favorable odds than you would find at most casinos in the United States. Add to that the generous bonus that you receive just for signing up, and you are getting a lot of extra playing time for your gambling dollar.
WATERLOO Iowa. – As reported by the Associated Press: "After spending more than a year building its $175 million hotel and casino in Waterloo, the Isle of Capri will begin building its work force.
"The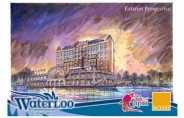 Artist's rendering of the Isle of Capri Waterloo company will open a temporary office on Jan. 2 in the Crossroads Center in Waterloo to accept applications for an estimated 800 full- and part-time jobs.
"A variety of jobs will be available when the casino opens next spring, although some positions will be filled early to allow for training, said Kay Lupkes, a spokeswoman for the Waterloo project.
"…Information on jobs and required skills will be available at the Waterloo office. The licensing process info will also be available, Lupkes said.
"…The project includes a 35,000-square-foot casino, three restaurants, a 200-room hotel and 1,000 parking spaces. A planned expansion will include a night club, spa and resort pool."
Isle of Capri Casinos
600 Emerson Road
Suite 300
St. Louis, MO 63141
Phone: (314) 813-9200
Toll Free Phone: (800) THE ISLE
Website: www.islecorp.com

Isle of Capri Casinos, Inc., operates 13 casinos in 11 locations. The company owns and operates riverboat and dockside casinos in Biloxi, Lula and Natchez, Mississippi; Lake Charles (2 riverboats), Louisiana; Bettendorf, Davenport and Marquette, Iowa; and Kansas City and Boonville, Missouri. The company also owns a 57 percent interest in and operates land-based casinos in Black Hawk (two casinos), Colorado. Isle of Capri's international gaming interests include a casino that it operates in Freeport, Grand Bahama and a two-thirds ownership interest in casinos in Dudley, Walsall and Wolverhampton, England. The company also owns and operates Pompano Park Harness Racing Track in Pompano Beach, Florida.