ST. LOUIS -- Isle of Capri Casinos and celebrity chef Luke Palladino hand-delivered gourmet Italian meals to Biloxi, Miss. residents working hard to rebuild their homes today, recognizing their dedication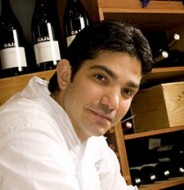 Luke Palladino signs with Isle of Capri for new eatery.
to the local community in the aftermath of Hurricane Katrina.
"As we begin another year of rebuilding and revitalization, the Isle wanted a unique way to give back and show our appreciation for the hard work our neighbors have put into restoring our community," said Duncan McKenzie, regional vice president of Isle of Capri. "We decided to thank Biloxi residents in a very simple way, by making them dinner and giving them a night off to enjoy their families."
Isle of Capri committed itself to the community and worked diligently immediately after Hurricane Katrina to account for all team members in the devastated region. Isle remained dedicated to the Mississippi Coast and reopened its casino just 119 days after the storm, keeping its workforce intact. Additionally, Isle of Capri established the Isle of Capri Relief Fund to bridge the gap between federal, state and local aid.
"In a community that has experienced so much tragedy and triumph during the past year, it is my pleasure to work with Isle and give back what little I can," said Luke Palladino, the culinary inspiration behind Isle's anticipated Bragozzo restaurant. "Witnessing the perseverance and strong sense of hometown pride this community has is awe-inspiring."
Isle and Palladino served meals to approximately 50 families, delivering Palladino's signature rigatoni pasta Bolognese, biaciabatta and chocolate grissini.
This October, celebrity chef Luke Palladino will be opening a new Italian restaurant, Bragozzo, on the Isle of Capri property in Biloxi followed by a second restaurant opening at its new casino in Pompano Park, Fla. in early 2007. The signature restaurant will be the first-of-its-kind on the Mississippi Coast offering an unparalleled experience of an Italian Osteria (or local eatery) and wine bar.
Golden Nugget Casino Biloxi
151 Beach Boulevard
Biloxi, MS 39530
Toll Free Phone: (800) 843-4753
Website: www.biloxiisle.com

The Golden Nugget Casino Resort Biloxi offers over 1,100 of the hottest slots all with ticket-in/ticket-out technology, 27 exciting table games and a new poker room. The resort features over 700 Caribbean Style rooms with a gulf view including 200 new Jacuzzi Suites, a Calypso's Buffet, Tradewinds Express and a 'Taste of Farraddays.'