Take a trip to a gambler's paradise with Luckity!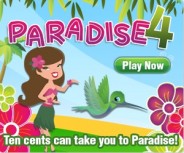 Luckity is a new website operated by the Churchill Downs Corporation and offers US players a safe and legal way to bet online. Luckity has a nice variety of games, and accounts are easy to set up. The games are unique as they are based on the results of horse races around the world. After you fund your account, pick your lucky numbers and see your results. This could be your Luckity day!
ILLINOIS – As reported by the Thoroughbred Times: "Illinois horsemen and track operators received a long-awaited financial lift on May 26 when Governor Rod Blagojevich signed two racing

bills, including one which will use riverboat casino revenues to increase purses and fund racetrack improvements.
"This bill will create the Horse Racing Equity Trust Fund by taking 3% of adjusted gross revenue during the next two years from the state's four largest riverboat casinos, an estimated $36 million each year. The fund will be divided among the state's six Thoroughbred and Standardbred tracks.
"…The Thoroughbred tracks, Arlington Park, Hawthorne Race Course, and Fairmount Park, will receive 57% of the fund's revenue and the three tracks that conduct harness racing, Balmoral Park, Maywood Park, and Hawthorne, will receive 43%. Each track will receive purse money equal to its percentage of total purse money for that breed in the previous year.
"The formula for track improvements and promotions is based on the percentage of total wagering at the tracks during 2004 and '05...."