LuckyAce Casino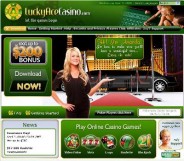 LuckyAce Casino is a new white-label casino that uses 888 software, the same platform that powers one of the oldest and most respected online gambling sites on the web, Casino-on-Net. LuckyAceCasino.com has all the most popular games including: BlackJack, Craps, Video Poker, Roulette, Keno and over two-dozen slot machines with better odds than a Las Vegas casino room. LuckyAce Casino does not accept US players.
SPRINGFIELD, Illinois -- As reported by the Rockford Register Star: "A gambling-expansion package under consideration at the Capitol may include a casino for Rockford. Sen. Rickey Hendon, a Chicago

Democrat spearheading the plan, said a Rockford delegation recently asked him to include Rockford. He refused to say who had approached him.
"...Hendon said the plan under consideration likely would include up to four casinos: one in Chicago, one in a south suburb of Chicago, one in Waukegan and another one either in Rockford or at O'Hare International Airport in Chicago.As lawmakers work toward the end of their spring session, some are eyeing gambling expansion as a means to generate state revenue. The session is set to end May 31, but lawmakers may need more time to reach a deal on a new state budget and other matters.
"...Though lawmakers contemplate more gambling every spring as they seek to raise more state money to cover their spending priorities, they have repeatedly failed to reach an agreement on an expansion package..."