Mystic Dragon Slots Cast a Spell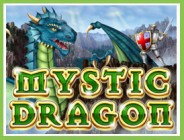 Club USA Casino's Mystic Dragon Slot is a 25 line / 5 reel video slot transporting you to a fantasy land of castles, dragons, knights and beautiful princesses. Ancient scrolls, treasure chests, and fire-belching volcanoes add to the mystery. Get ready to fight the dragon to win more spins and huge jackpots.
CHICAGO, Illinois -- As reported by the Chicago Tribune: "The Illinois Gaming Board on Tuesday ordered a Chicago developer to sell his interest in the Casino Queen riverboat in East St. Louis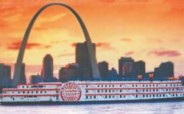 The Casino Queen because of his past ties to a known associate of organized crime.
"The developer, Gerard Kenny, a partner in the new Mandarin Oriental Tower near Millennium Park, has 30 days to sell his shares, the board ruled.
"The Tribune reported in 2005 that Kenny had a business venture with Leonard J. Mercer Jr., a convicted felon who had been identified by authorities in New Jersey as an associate of organized crime.
"Mercer was Kenny's original partner in the deal to build the Mandarin Oriental, but Kenny said Tuesday that Mercer withdrew from the deal early on.
"...'The board will not tolerate people with notorious or unsavory reputations getting licenses or participating in the gaming industry in the state of Illinois,' Gaming Board Chairman Aaron Jaffe said during the meeting..."
Casino Queen Hotel & Casino
200 South Front Street
East St. Louis, IL 62201
Toll Free Phone: (800) 777-0777
Website: www.casinoqueen.com

The Casino Queen has a reputation for having the most liberal slot payouts found in any casino, as reported by Casino Player magazine. # There are ovver 1,000 of the most popular slot and video poker machines and table limits from $2 to $2,000. Games include Blackjack, Craps, Roulette, Caribbean Stud, Pai Gow, and Mini-Baccarat. The casino is open from 9:00am to 7:00am daily.