ORANGE COUNTY, Indiana -- As reported by 14 News: "Officials with the French Lick Resort Casino in Orange County, Ind., have set a ribbon-cutting ceremony for Oct. 31, in anticipation of final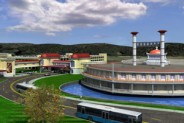 Artist's rendering of the French Lick Resort Casino. licensing approval by the Indiana Gaming Commission, and plan to open the casino's games to guests immediately after the event.
"The ribbon-cutting is one of a number of VIP events scheduled as casino officials mark what they're calling 'a Springs Valley renaissance' valued at more than $382 million.
"...The ribbon-cutting ceremony will be open to the public. After the opening ceremonies, invited guests will be able to play the roulette tables, slot machines and other games as part of a 'test run' of the casino mandated by the Indiana Gaming Commission, as part of its approval process..."
French Lick Casino Resort
8670 West State Road 56
French Lick, IN 47432
Phone: (812) 936-9300
Fax: (812) 936-2100
Website: www.frenchlick.com

The 84,000 square-foot nautically-themed casino will feature 42,000 square feet of Vegas-style gaming, all on one floor, with soaring 26-foot ceilings. Guests will enjoy premier gaming, entertainment and dining options including 1,200 Slot Machines, 32 Table Games (Blackjack, Roulette & Craps) and a 14-table Poker Room. There will also be a High-Limit Gaming Area.