INDIANA -- As reported by the Indianapolis Star: "It's no wonder Cook Group and Lauth Property Group are grappling for sole control of their casino-resort project in French Lick.
"Next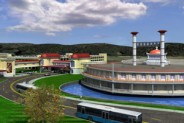 Artist's rendering of the French Lick Resort Casino.
year, the casino alone is forecast to generate $120.6 million in gambling revenue and send $30 million or more in tax revenue to state and local governments.
"By 2011, gambling revenue would grow to $136 million, according to figures released by the Indiana Gaming Commission.
"'We believe we can make this project very, very successful,' said Vernon Back, Lauth's general counsel.
"…The question is how successful.
"In June the companies' divergent answers led Lauth to offer Cook $200 million for its half of the project and Cook to offer Lauth $5 million for its stake…"
The dispute between the two owners of the French Lick Resort Casino could get resolved within the next few weeks.
Inside Indiana Business reports attorneys for Bloomington-based Cook and Indianapolis-based Lauth will submit a synopsis of their arguments this week.
A judge will decide how much influence and how much ownership each partner should have in the project. The judge says he hopes to rule by September 7th.