LuckyAce Casino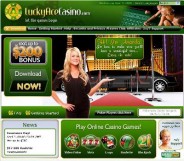 LuckyAce Casino is a new white-label casino that uses 888 software, the same platform that powers one of the oldest and most respected online gambling sites on the web, Casino-on-Net. LuckyAceCasino.com has all the most popular games including: BlackJack, Craps, Video Poker, Roulette, Keno and over two-dozen slot machines with better odds than a Las Vegas casino room. LuckyAce Casino does not accept US players.
INDIANAPOLIS, Indiana -- As reported by the Indianapolis Star: "With approval yesterday by gambling regulators, the family of billionaire Bill Cook will take full control of the French Lick Casino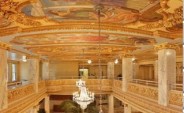 The view of the French Lick ceiling from the mezzanine. Resort, ending a troubled relationship with its Indianapolis partner.
"The Bloomington entrepreneur and his family will pay an undisclosed amount to developer Lauth Property Group, buying out Lauth's 50 percent interest in the Orange County casino and two historic hotels.
"...The Indiana Gaming Commission approved the deal on a voice vote yesterday with no discussion. A Lauth spokesman said it likely will take several weeks to complete the transaction.
"Gamblers are not likely to notice the transition, and the casino's management staff will remain, said officials of Cook Group, the medical device company that Bill Cook founded and owns..."
French Lick Casino Resort
8670 West State Road 56
French Lick, IN 47432
Phone: (812) 936-9300
Fax: (812) 936-2100
Website: www.frenchlick.com

The 84,000 square-foot nautically-themed casino will feature 42,000 square feet of Vegas-style gaming, all on one floor, with soaring 26-foot ceilings. Guests will enjoy premier gaming, entertainment and dining options including 1,200 Slot Machines, 32 Table Games (Blackjack, Roulette & Craps) and a 14-table Poker Room. There will also be a High-Limit Gaming Area.