INDIANA – As reported by the Louisville Courier Journal: "More than a decade after the first casinos opened in Indiana, the state's gambling industry is expanding its markets and preparing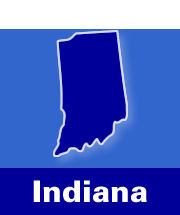 for possible competition from other states, including Kentucky.
"Four of the five casinos along the Ohio River and two of the five on Lake Michigan have invested or are planning to spend a total of $1.2 billion on upgrades, expansions or new boats.
"Two other Northern Indiana boats -- both Majestic Star casinos in Gary -- also are exploring options for expansion.
"And that total doesn't include the $385 million spent on the state's newest casino in French Lick, 55 miles northwest of Louisville.
"…Officials in Ohio and Kentucky have long discussed adding slot machines at their racetracks to help the horse industry and capture wagering tax dollars now spent by their residents in Indiana. But Ohio residents in November defeated a referendum that would have allowed slots, and Kentucky continues to wrestle with the issue.
"According to the Kentucky Equine Education Project, a coalition of horse racing interests, Kentuckians spend $600 million annually at Indiana casinos.
"At Caesars, workers are busy giving the 8-year-old vessel a $50 million makeover so Harrah's can re-brand it under its Horseshoe name. Construction started last month on the fourth deck, where the casino is adding high-limit table-game and slot-machine areas. It will then continue the renovation down through other floors, adding a stage bar on the second floor for live shows.
"…Upriver near Cincinnati, the Argosy Casino at Lawrenceburg is building a vessel to replace its 10-year-old riverboat. The $310 million project, which includes a new parking garage, will nearly double the size of the casino, said Eric Schippers, vice president of public affairs for the parent company, Penn National Gaming Inc.
"…Some Indiana casino officials say they want to be prepared should competition from Kentucky or Ohio ever come.
"Belterra -- which sits on the Ohio River between Caesars and Argosy -- draws most of its customers from Louisville, Cincinnati and Lexington. Like other river casinos, it could be vulnerable to expansions in neighboring states.
"…Expansions continue on Lake Michigan as well. Blue Chip Casino in Michigan City has announced a $130 million hotel expansion after opening a $170 million vessel last year that offers customers gambling on one level.
"…Columbia Entertainment, which is buying Casino Aztar in Evansville, is finishing an adjacent $40 million entertainment district and boutique hotel. Company officials told the gaming commission recently they'll consider replacing the boat, the oldest in Indiana.