Mystic Dragon Slots Cast a Spell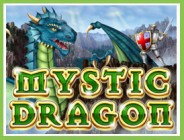 Club USA Casino's Mystic Dragon Slot is a 25 line / 5 reel video slot transporting you to a fantasy land of castles, dragons, knights and beautiful princesses. Ancient scrolls, treasure chests, and fire-belching volcanoes add to the mystery. Get ready to fight the dragon to win more spins and huge jackpots.
FLORIDA -- As reported by the Florida Sun Sentinel: "Free-spending tourists, fun-seeking senior citizens and South Florida's large population base had gambling industry analysts forecasting that

Las Vegas-style slot machines would be an instant hit at Broward County racetracks.
"But eight months after the first slots started ringing, those same analysts say they were wrong. Business at Broward's fledgling racetrack casinos has been lackluster, falling well short of Wall Street's expectations, according to gaming industry experts.
"...The Seminole Tribe of Florida continues to dominate South Florida's gambling market while the racetrack casinos wrestle with the state's slots tax rate, industry analysts said. Half of every slots dollar goes to Florida's public schools, which had received $44.4 million as of June 10.
"The state projected in February that the three racetrack casinos would generate $177.2 million for schools during the 2007-08 fiscal year. That estimate was based on each slot machine at the three pari-mutuels generating on average $219 a day. So far, only one of the three casinos has hit that benchmark.
"...Gaming analyst Dennis Forst, a managing director at KeyBanc Capital Markets, said the Seminoles have demonstrated the power of their casinos' brand..."