Mystic Dragon Slots Cast a Spell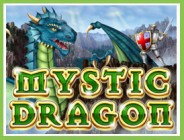 Club USA Casino's Mystic Dragon Slot is a 25 line / 5 reel video slot transporting you to a fantasy land of castles, dragons, knights and beautiful princesses. Ancient scrolls, treasure chests, and fire-belching volcanoes add to the mystery. Get ready to fight the dragon to win more spins and huge jackpots.
TALLAHASSEE, Florida -- As reported by The Palm Beach Post: "Attorney General Bill McCollum has asked federal gaming officials to shut down the Seminole Tribe of Florida's expanded casino operations

- including blackjack, baccarat and Vegas-style slots - based on a recent state Supreme Court ruling.
"...In July, the Florida Supreme Court effectively invalidated a gambling contract between Gov. Charlie Crist and the Seminoles, saying Crist did not have the authority to allow the tribe to hold games that are illegal elsewhere in the state.
"Crist signed the contract, called a compact, with the Seminoles last year allowing them to hold games including blackjack, baccarat and full-fledged slots, based on a federal law. That law permits tribes to hold the same kinds of games allowed elsewhere in the state.
"...The slots are considered "Class III" gaming under federal law; that class includes certain card games, such as blackjack, played against the house.
"But state law bars those games and Crist did not have the authority to give the tribe the right to hold them without approval from the legislature, which has the sole power to write law, the court ruled.
"...The Seminoles continue to hold the games because state law enforcement officials do not have the authority to stop activities on tribal lands, hence McCollum's plea to the feds..."