Dragon Forged Software has released Blackjack Card Counter 3.0 for Mac OS X, designed to teach users how to beat the house in Casinos statistically. The software supports most Blackjack casino rules,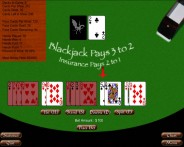 Blackjack Card Counter 3.0 sample screen and optionally displays a chart depicting the best statistical move.
Blackjack Card Counter also displays statistical information related to the art of card counting, and keeps detailed user statistics which will notify players when they are ready to count cards in a real casino. Feature sinclude customizable dealer options, realistic casino behavior, automatic updates, and the ability to play up to four hands simultaneously. Blackjack Card Counter 3.0 requires Mac OS X 10.2 or later, and is priced at $15.
Features include:
• Customizable Dealer Options that can mimic almost any Casinos.
• Three Charts that cover most Blackjack games played in casinos today.
• Statistics to keep track of your skill level and let you know when you are ready to play for money.
• Realistic Casino Behavior
• Automatic Upgrade checking insures your version is always the most up to date.
• Play up to 4 hands at a time