Blackbelt in Blackjack, Revised
by Arnold Snyder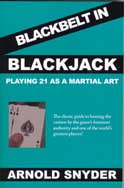 Arnold Snyder is one of blackjack's legends. This book, now back in print and revised,has become underground gambling classic. This is blackjack as a martial art, targeted for serious and professional players looking to win real money at the game. Snyder reveals tips and tricks used by the pros-shuffle tracking, team play, multiple deck camouflage techniques so that the casino can't detect that the player is using winning techniques, and much more. 21 powerful chapters include a complete course on beating blackjack: the devastating red 7 count, the hi-lo count, the zen count, the true count, and so much more.

World's Greatest Blackjack Book
by Lance Humble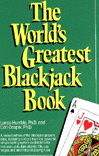 An excellent book for those moving up from beginner status, offers the effective Hi-Opt I betting system, tips on picking the right dealers, which is not only a very good counting system but is also a jumping off point for more advanced counts such as the Hi-Opt II. The book also details ways to detect cheating.