Beat the Dealer: A Winning Strategy for the Game of Twenty-One
by Edward Thorp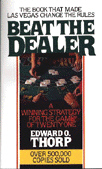 This great classic has sold half-million copies since the 1960s when it was originally published. Thorp is considered the 'Father of Modern Blackjack Play.' His theories helped develop a count system that revolutionized the way players and casinos look at the game. An absolute 5-star must for anyone who intends to play blackjack.

Most Powerful Blackjack Manual
by Jay Moore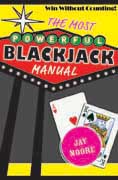 Any book can teach the rules and basic plays of blackjack, but only this one offers real insight into the mental game-particularly the winning combination of analytical thinking, self-discipline, and cool decision-making that will give you an immediate edge at the table. Using the author's proven 'Delayed and Up' method, as well as detailed analysis of more than 20,000 actual casino hands, you'll learn to recognize when you have the advantage over the dealer, determine the best ways to manage rules variations, and significantly increase your chances of winning.all without counting cards.