Million Dollar Blackjack
by Ken Uston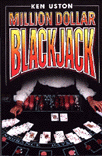 Uston was one of the legendary card counters who traveled the world beating the casinos. This major best-seller covers strategies for all major casino areas-Reno, Las Vegas, (single and multiple decks) Atlantic City, Bahamas. Offers Uston Ace-Five Count for the intermediate player, Simple or Advanced Plus-Minus Count strategy for advanced players. Contains his Advanced Point Count. Covers front-loading, spooking, cheating from both sides of table.

Smarter Bet Guide to Blackjack
by Basil Nestor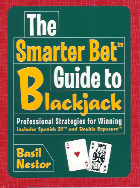 Strategy is the key to success at the blackjack table; that's a mathematical fact, and you can count on these expert, easy-to-learn tactics to make you a victor. Here's the deal: everything begins with the basic rules, and they're laid out on these pages with smart little "factoid" tips. Go through blackjack economics, which explain why cards fall the way they do, and what makes a good (and a sucker) bet. Easy-to-follow tables suggest strategies for splitting pairs and soft hands and provide dozens of other statistics and card probabilities.