Mensa Guide to Blackjack
by Joshua Hornik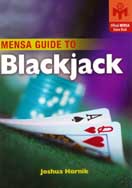 These are the smartest, simplest, most solid strategies for winning blackjack ever--even a total novice can bet on it. Hornik belongs to a group of professionals who prove their talents at the table every day (MIT blackjack team), and he knows the system for coming out on top. It's all about counting the cards--do it right and the odds are on your side. He explains blackjack's rules and basic tactics, how to do the actual card counting, and how to use the information the numbers reveal to make the right bets. Back-counting, comps and heat, shuffle tracking, ace tracking, and playing with a team--it's all covered.

Burning the Tables in Las Vegas
by Ian Andersen

This is the long-awaited sequel to the author's best selling (out of print) classic, Turning the Tables on Las Vegas. With a quarter century's worth of experiences in high-stakes gambling, Andersen here forges a blueprint for success in blackjack, poker and other games of life. He addresses virtually every aspect of blackjack advantage play: game selection, longevity, tipping, employee relations, guises, disguises, false identification, credit, comps, risk, heat, dress, demeanor and even diet. Peppered with anecdotes and stories, the book takes you on a vicarious journey into the rarefied realm of the blackjack pro and shows you what it takes to be one.