Golden Touch Blackjack Revolution!
by Frank Scoblete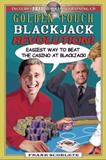 the revolutionary and incredibly simple, yet powerful, Speed Count and the matching Optimum Basic Strategy (OBS). In minutes you can learn Speed Count and be able to play blackjack with an edge over the house. This new book includes a FREE CD so you can practice the Speed Count and OBS at home.

Gambling Teachers Ebook
by Gayle Mitchell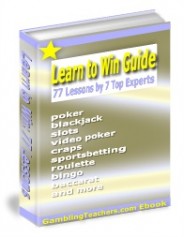 Learn to Win Guide: 77 Lessons by 7 Top Experts. 10 Program Chapters: 1) Poker-7 Games. 2) Blackjack. 3) Craps 4) Video Poker 5) Slots 6) Bingo & Keno. 7) Roulette. 8) Other Games: Baccarat & European Games. 9) Sports Betting and 10) Gambling Strategies-Tips from the GT team. Chapters 11) Online Gambling and 12) Gambling Teachers Blog, Lesson 77 completes the Guide. PDF format.