The Counter
by Kevin Blackwood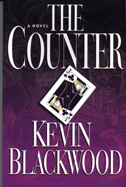 This is an authentic, gambling novel, written by someone who spent years in the trenches. This book offers a rare glimpse into the intriguing life of a professional card counter, certainly one of the world's most unique occupations. The protagonist, Raven Townsend, decides he's too good for Maine and shuns his poor New England upbringing. His grandiose plans of becoming a famous Biblical archaeologist suddenly get shelved when he takes a detour into the world of high stakes blackjack. His exceptional mathematical gifts, phenomenal memory, and incredible determination enable him to succeed where most fail—but at the expense of his girlfriend and original dreams. Raven's quest to win a million dollars in blackjack becomes the driving force in his life. However, a sharp-eyed casino surveillance expert stands in the way of Raven's goal, producing a dramatic, page-turning finish in casinos from Reno to the Caribbean.

Big Book of Blackjack
by Arnold Snyder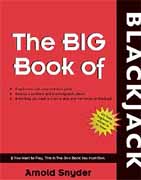 Snyder shows beginning and advanced players everything they need to know to beat the game of casino blackjack. From the rules of the game to advanced professional strategies, his guidance and advice runs the gamut of strategies needed to successfully beat the casino-with the odds. Snyder has been a professional player and the guru for serious players for more than 25 years. One of the most fascinating sections, rarely covered in any previous book in depth, is the history of the game and how it evolved, including profiles of some of the great players, some of them pioneers..