Gambling Teachers Ebook
by Gayle Mitchell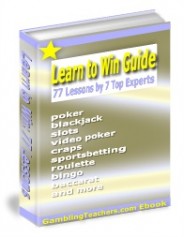 Learn to Win Guide: 77 Lessons by 7 Top Experts. 10 Program Chapters: 1) Poker-7 Games. 2) Blackjack. 3) Craps 4) Video Poker 5) Slots 6) Bingo & Keno. 7) Roulette. 8) Other Games: Baccarat & European Games. 9) Sports Betting and 10) Gambling Strategies-Tips from the GT team. Chapters 11) Online Gambling and 12) Gambling Teachers Blog, Lesson 77 completes the Guide. PDF format.


Bringing Down the House
by Ben Mezrich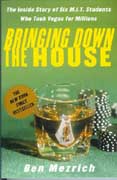 May be the most fascinating book written on blackjack counting teams since the days of Ken Uston (who died in 1987). Written by Ben Mezrich, who gained the trust of a half-dozen MIT students (occupation: blackjack counters), this work covers a four-year period when the 'team' was in its heyday (1994 to 1998), winning big and escaping the clutches of casino management with minimum damage to self and bankrolls. Mezrich must have truly blended in with this group of near-geniuses and sharpies who often communicated in code right at the tables, signaling verbally and non-verbally. But the strength of the book is in his astute observations of how Las Vegas compares to Atlantic City; what the casino mentality is with regard to attracting players and high rollers, including the all-powerful 'whales' (the highest of high rollers), in how surveillance systems are designed to operate, how counters can be threatened, roughed up and warned never to return again.