Smarter Bet Guide to Blackjack
by Basil Nestor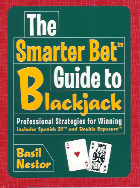 Strategy is the key to success at the blackjack table; that's a mathematical fact, and you can count on these expert, easy-to-learn tactics to make you a victor. Here's the deal: everything begins with the basic rules, and they're laid out on these pages with smart little "factoid" tips. Go through blackjack economics, which explain why cards fall the way they do, and what makes a good (and a sucker) bet. Easy-to-follow tables suggest strategies for splitting pairs and soft hands and provide dozens of other statistics and card probabilities.

Most Powerful Blackjack Manual
by Jay Moore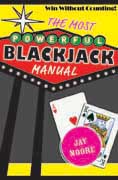 Any book can teach the rules and basic plays of blackjack, but only this one offers real insight into the mental game-particularly the winning combination of analytical thinking, self-discipline, and cool decision-making that will give you an immediate edge at the table. Using the author's proven 'Delayed and Up' method, as well as detailed analysis of more than 20,000 actual casino hands, you'll learn to recognize when you have the advantage over the dealer, determine the best ways to manage rules variations, and significantly increase your chances of winning.all without counting cards.