Playing Blackjack as a Business
by Lawrence Revere

One of the finest works on the subject, like fine wine, this essential book improves with age. It carved out a fast pace for the counter's revolution in blackjack. With an assist in computer work by the brilliant Julian Braun, this controversial Las Vegas operator compiled an instruction book on blackjack based on 25 years in the gambling business.

World's Greatest Blackjack Book
by Lance Humble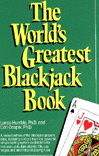 An excellent book for those moving up from beginner status, offers the effective Hi-Opt I betting system, tips on picking the right dealers, which is not only a very good counting system but is also a jumping off point for more advanced counts such as the Hi-Opt II. The book also details ways to detect cheating.