World's Greatest Blackjack Book
by Lance Humble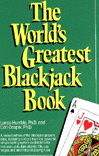 An excellent book for those moving up from beginner status, offers the effective Hi-Opt I betting system, tips on picking the right dealers, which is not only a very good counting system but is also a jumping off point for more advanced counts such as the Hi-Opt II. The book also details ways to detect cheating.

Gambling Teachers Ebook
by Gayle Mitchell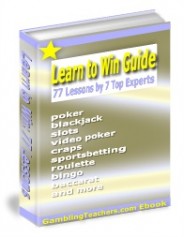 Learn to Win Guide: 77 Lessons by 7 Top Experts. 10 Program Chapters: 1) Poker-7 Games. 2) Blackjack. 3) Craps 4) Video Poker 5) Slots 6) Bingo & Keno. 7) Roulette. 8) Other Games: Baccarat & European Games. 9) Sports Betting and 10) Gambling Strategies-Tips from the GT team. Chapters 11) Online Gambling and 12) Gambling Teachers Blog, Lesson 77 completes the Guide. PDF format.