21 A Journey: Memoirs Of A Professional Gambler
by Stephen Custer

21 -- A Journey is that rare animal, a relatively new book on the subject of blackjack. It's a story about one man's pursuit of a new career playing the game and the elements in his life that lead him in that direction.

Million Dollar Blackjack
by Ken Uston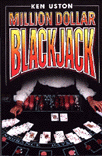 Uston was one of the legendary card counters who traveled the world beating the casinos. This major best-seller covers strategies for all major casino areas-Reno, Las Vegas, (single and multiple decks) Atlantic City, Bahamas. Offers Uston Ace-Five Count for the intermediate player, Simple or Advanced Plus-Minus Count strategy for advanced players. Contains his Advanced Point Count. Covers front-loading, spooking, cheating from both sides of table.