21 A Journey: Memoirs Of A Professional Gambler
by Stephen Custer

21 -- A Journey is that rare animal, a relatively new book on the subject of blackjack. It's a story about one man's pursuit of a new career playing the game and the elements in his life that lead him in that direction.

Ken Uston on Blackjack
by Ken Uston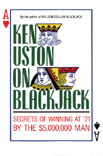 A legendary figure at the '21' tables in Nevada and Atlantic City casinos, Ken Uston and his 'team' won more than $5,000,000. He had the distinction of being barred from a number of casinos and used facial disguises to get into action. This book divulges Uston's priceless playing secrets.