The Counting Game
by Alan Berg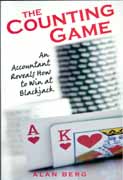 Blackjack has long fascinated--and defeated--players who think they have the system to win. Berg tells how he beat the odds at the blackjack tables again and again. He exposes the new tricks he discovered through his experiences and his strong relationship with statistics from his long career as a CPA. Unlike more technical gambling books, this one is written to aid players of all levels.

21 A Journey: Memoirs Of A Professional Gambler
by Stephen Custer

21 -- A Journey is that rare animal, a relatively new book on the subject of blackjack. It's a story about one man's pursuit of a new career playing the game and the elements in his life that lead him in that direction.