Smarter Bet Guide to Slots and Video Poker
by Basil Nestor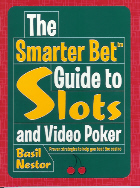 A pocket-sized book that provides a clear-cut explanation of payback comparisons, progressive jackpots and how to evaluate them, video poker strategy tables, and other mathematically derived techniques to lower the casino advantage.
Play Penny Slots Now!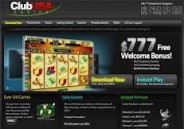 If you are just learning about slots, you should check out Club USA Casino. You can keep your risk to a minimum by playing their big selection of penny slots and you'll also get a nice sign-up bonus.

Bally Gaming
Bally Gaming is the company behind such popular slots as Blazing 7s, Saturday Night Live Slots, QuarterMillion$ and many more. The website provides a glimpse of what goes into making a great slot machine. The site also shows where players can find their favorite slots.
WMS Gaming
WMS Gaming, also know as Williams, is a leading reel and video slot manufacturer. The company started out in the video lottery terminal (VLT) business in 1991. In 1997, the company premiered what would be, and still is, its most successful video slot machine to date, Reel 'em In¨∆. This multi-coin, multi-line game offered tons of bells and whistles for the slot player. The website provides graphics and details for many of its slots, including Monopoly, Clint Eastwood, Treasure, Quakers, Cool Cat Cash, and many others.
International Game Technology (IGT)
The leader in slot machine manufacture, IGT produces hit after hit including popular favorites Megabucks, Wheel of Fortune, Double Diamonds, to the latest innovations. The website features details on the slots, video slots and other products that IGT is famous for. There's also a Gamefinder function which allows you to search for the locations of your favorite games. Financial and technical information for investors and slot directors is also included.
Slot games have an aura of simplicity. Slide a few dollars into the machine, pull the handle or push a button, reels spin, music plays, and you win or lose. Wheeee! The whole process takes just a few

Basil Nestor is the author of the new Playboy Complete Guide to Casino Gambling. This wonderful book teaches players how to avoid sucker bets and win more when playing gambling games. He is also the author of The Smarter Bet Guide series for video poker, slots, craps, and many other books about gambling. Basil's website is www.smarterbet.com
seconds.
But this simplicity is only a façade. A typical slot machine has billions of variables, and its internal functions are infinitely more complex than
poker
,
blackjack
,
craps
, or any other supposedly "complicated" casino contest. Most of this internal complexity is designed to create random results and prevent you from influencing the game, but happily, not everything is beyond your control. Your choices
can
significantly affect the outcome of the contest.
In other words, there are slot strategies that work, and you don't need to be a rocket scientist to use them. I'll explain more about that as we go along, but first let's briefly review basic slot machine functions. If you've spent much time in a casino, then the next few paragraphs may be old news, but just in case…
Buttons, Paylines, and Jackpots
When you look past the flashing lights, bells, music, video screens, and other modern paraphernalia, the basic slot game (on the outside) is pretty much the same today as it was a century ago. A typical machine has three or more reels. Each reel has sections that are called stops, and every stop is covered with a symbol. It might be cherries, a pot of gold, a Sizzling 7, or something else (sometimes just a blank space). A player puts money into the machine, pulls a handle or pushes a button, and the reels spin. A few seconds later the spinning stops; the combination of symbols displayed on the reels directly under the payline determines how much (if anything) the player has won.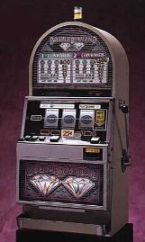 The prizes associated with various reel combinations are displayed on a pay table that is on a panel above and/or below the reels. Credits are scored on a meter, and the machine dispenses printed vouchers that can be cashed or played in other games (older slots use coins and drop their jackpots into a tray at the bottom of the machine)
Some slots still come with an old-fashioned handle. Pulling it will deliver a wonderfully visceral drag that approximates some designer's idea of how moving gears should feel, but it's just an illusion. The handle performs the same function as the Spin button; it activates a separate mechanism that makes the game go.
Slot games have different designs, but they all have layouts similar to this. Note the pay table on the upper portion of the machine.
The Service button is used to summon a slot attendant (when the machine malfunctions). Cash Out is used to cash out.
Bet One wagers credits in single increments. Bet Max wagers multiple credits (whatever the machine allows as maximum per spin). Bet Max also activates the spin mechanism.
There's a slot for your
players club
card (more on
players clubs
in a later article), and there's usually a comfy seat where the casino would like you to settle for the next few hours. But don't get too comfortable; the strategies in this book soon will have you moving to a better machine.
Have you ever wondered why some slots have "bar" symbols on the reels? They're a holdover from the early twentieth century when slot machines delivered chewing gum in their jackpots. Look at an old-style pad of Bazooka bubble gum, and you'll see the resemblance.