Feel the hip, Las Vegas lounge vibe with this new online slot machine powered by Vegas Technologies and available for US players at Golden Casino.
'The Vegas Party' is one of the latest 5-reel,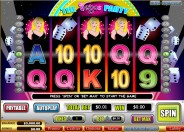 The Vegas Party online slot available at Golden Casino 25 pay line games available at Golden Casino. The slot has a fun Vegas-Lounge theme, with line items including beautiful women, sharp-dressed characters resembling James Bond, dice, and letter combination fillers. The background sounds are very similar to being in a Las Vegas casino. It seems they have also incorporated a 3-D sound effects engine in the software, as it feels as though other players are dropping in coins and hitting jackpots.
'The Vegas Party' can be played in denominations ranging from 1 Cent to $5 and can be played over all 25 pay lines, making the maximum bet for this machine a whopping $125 per spin. A great strategy for this machine is to play smaller denominations over more pay lines to get the best betting coverage. For instance, if you were to want to place a $5 bet the better strategy would be to bet 20 cents over all 25 pay lines. This is because you will be able to strike more multipliers than playing all $5 on one pay line. It will also allow you to strike more "wild card" line items than across the single, middle pay line.
The wild card line items are symbols stating "The Vegas Party" and light up in a Vegas neon glow. These symbols will count toward any other line item that equals out to a jackpot. I found the wild card symbols essential for getting a positive return on the slot, especially while playing across multiple pay lines. Wild card symbols produced about 40% of my jackpots, so a much needed addition to the game.
Another great feature to 'The Vegas Party' is the ability to play in the safe, downloadable casino or in instant Flash mode. I like casinos that offer instant Flash play because I prefer not to add additional software to my computer unless necessary. The instant Flash version played extremely smooth over my broadband connection without any delays.
The only thing I found missing with 'The Vegas Party' slot machine was a bonus level. I love online slots with bonus levels because they add an extra dimension of fun as well as usually guarantee an extra cash prize. Just the same I found the game to be overall exciting and I really enjoyed the overall Vegas vibe.
I would definitely recommend 'The Vegas Party' for anyone looking to play a great Vegas-themed slot. The return percentages are great and US players are welcome at Golden Casino. It is also backed by Vegas Technologies, a well-known and trusted software developer for online casinos.
Golden Casino is an excellent online casino that is available to US players. Offering over 75 slot machines and numerous table games, there is casino action for all tastes.