With huge bonus round jackpots and the chance to win $5 Million in a single pull, this football themed online slot machine has the potential for big wins.
The '$5 Million Touchdown' online slot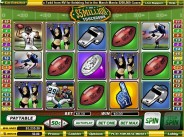 machine is a new addition to Go Casino's line-up of 5-reel, 20 pay line bonus products. Betting increments range from 1 cent to $10 and can be spread across all 20 pay lines. This brings the maximum bet of this machine to $200. During my game play I stayed with 25 cent bets spread across all 20 pay lines, making my bet $5 per spin.
The machine itself is football themed, with line items that include cheerleaders, football players, goal posts, foam fingers and the wild card referee. I found the wild card helpful during game play, as many of my pay-offs were possible from the wild card line item.
'$5 Million Touchdown' also has a very generous bonus round. When two bonus target line items appear on any pay line the bonus round is triggered. The player is presented with a pyramid of football players, starting with 8 and ascending up to a single player at the top. Players are prompted to select a football player, which reveals a cash prize. If the symbol under the football player is also a green target, you are able to move up to the next tier of the bonus round. Each level presents a cash prize until a 'fumble' symbol is struck, which ends the bonus round. I was able to reach the 5th tier before hitting a 'fumble' symbol, which cashed me in a $141.75 bonus jackpot. This is very impressive for a bonus level.
The most exciting part about '$5 Million Touchdown' is the chance to hit the top jackpot of $5 million. This can be done if all 5 scatter symbols hit on the same pay line. This jackpot is not part of Go Casino's progressive network, so players can hit the $5 million jackpot at any time.
'$5 Million Touchdown' is very similar to Go Casino's 'Money Shot' online slot as far as theme and generous bonus levels. The main difference is the potential jackpot- $5 Million Touchdown' can pay out a maximum of $5 Million, whereas 'Money Shot' can pay a maximum of $1 Million.
I was able to get a very respectable return of 92.5% from my hour of playing '5 Million Touchdown.' If you are interested in sports-themed slot machines I would say this is the machine for you. Between the very generous bonus rounds, wild card line items, and the chance to win $5 Million, this slot machine pays off well and offers exciting game play.
Enjoy!

Go Casino is part of the family of casinos that includes Golden Casino and Online Vegas. These online casinos are very friendly to US players and provide easy deposits using major credit cards.