Tournament Highlights:
The Winner
· The 2009 World Series of Poker $2,500 buy-in No-Limit Deuce-to-Seven Draw Lowball champion is Phil Ivey, from Las Vegas, NV.
· Ivey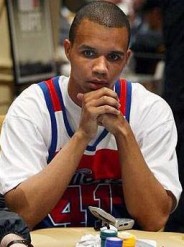 Phil Ivey takes home his 6th WSOP Gold Bracelet is one of the world's best-known and most-respected poker players. This was his sixth WSOP gold bracelet, moving him into a five-player tie for seventh place on the all-time wins list. Ivey joins Layne Flack, Men "the Master" Nguyen, Jay Heimowitz, and T.J. Cloutier who each have six career wins. This was his first WSOP win in more than four years. Ivey's last win came in 2005.
· Ivey is 32-years old. He is married to wife Luciaetta.
· Ivey has become a near mythological figure in the poker world and is unquestionably one of the game's most enigmatic personalities. Considered by many to be the most publicity-shy poker star in the world, he rarely gives out interviews or reveals much about his private life. Yet the further Ivey runs away from the spotlight, the more it seems to shine upon him. Ivey's numerous wagering exploits – many unfathomable to the average person -- have become part of the popular modern folklore, making it difficult at time to separate fact from fiction.
· Ivey routinely makes stratospheric-sized prop and sports bets. He reportedly bet $1 million on last year's Super Bowl.
· Ivey was born in California, and moved to New Jersey at a very young age. He began playing Seven-Card Stud daily in Atlantic City casinos. By the time Ivey was in his early 20s, he was already acknowledged as one of the East Coast's best cash game players. At the time, opponents used the words "prodigy" and "savant" to describe Ivey.
· Ivey's "poker office" was the Trump Taj Mahal until the age of 24, when he moved to Las Vegas. He then started playing tournament poker and gradually attained superstar status. In his first-ever WSOP gold bracelet victory in 2000 and perhaps emblematic of poker's generational and cultural shift, Ivey defeated legend "Amarillo Slim" Preston in heads-up play. That marked Ivey's first-ever final table appearance, and Slim's last.
· Following his win in this tournament, consistent with his secretive nature, Ivey rushed away without being interviewed. In a previous post-tournament interview after winning WSOP gold bracelet number five (2005), Ivey stated: "I think I can win thirty (gold bracelets). Tournaments are much tougher to win now because the fields are (so big). I don't play as many tournaments for that reason, but I still think I can get to 30."
· To get to 30 gold bracelets, based on the average life expectancy of a healthy American male aged 32-years old (according to actuarial tables), he would have to win a WSOP event about once every 1.5 years.
· Ivey insists that he does not want to be famous. He has no desire to be a celebrity. Ivey has told those who know him best that what he enjoys most is competing and winning. He is driven by a fierce obsession to win and succeed in everything he does. Ivey's other pursuits include golf. He started out playing only a few years ago and is reportedly close to be a scratch golfer.
· Only moments following his victory, Ivey was seen playing in another tournament that had begun earlier in the day. During a break Ivey was asked a few questions in an exclusive interview. The short exchange went as follows (Note: Media may quote freely from this verbatim text recorded by Nolan Dalla):
Question: What does winning gold bracelet number six mean?
Ivey: It means I am one step closer to number seven.
Question: What do you think as you look back on the Deuce-to-Seven event?
Ivey: I don't know. It was a grueling event. When we got head-up, we played a long time head-up. I did not expect it to last that long. I expected it to break either way. It was a tough final table. I don't play that much Deuce, so I am pretty proud that I won a bracelet in this event since I had not won this game before. It really means a lot. Every time you win a bracelet, especially now, it is a major accomplishment.
Question: Your last opponent, John Monnette played a great game. Agree?
Ivey: Yeah, he is a great player. I agree -- he played terrific.
Question: Do you look at the players who are still above you in wins – names like Hellmuth, Brunson, Chan, and the rest? Do you expect to surpass them?
Ivey: Yes, of course I want to catch them. I will.
Question: You value your privacy. Why do you prefer to stay so low key?
Ivey: I just like to keep to myself and do my own thing. I like to be my own person. If I can make money off it, that's great. If not, then I can always play poker There's always someone around where I can make a bet or two.
· About an hour following his victory, poker pro Howard Lederer walked by and needled Ivey. "Don't report that he won the tournament," Lederer boldly demanded. "We're working hard trying to prove that poker is a game of skill, and Ivey winning is going to ruin everything." Ivey smiled and quickly realized Lederer was joking.
· Ivey collected $96,361 for first place. He was also awarded his sixth WSOP gold bracelet. Ivey's previous wins came in:
2000 -- $2,500 Pot Limit Omaha
2002 -- $1,500 Seven Card Stud
2002 -- $2,500 Seven Card Stud High/Low Split
2002 -- $2,000 S.H.O.E.
2005 -- $5,000 Pot Limit Omaha
· Ivey is one of only four players to win three WSOP gold bracelets in a single year. The others are Puggy Pearson, Ted Forrest, and Phil Hellmuth.
· Ivey now has 31 WSOP cashes, and 19 final table appearances.
The Players
· The final table was comprised of two former WSOP gold bracelet winners – Phil Ivey and Eric Kesselman.
· The runner up was John Monnette. He is a poker pro from Palmdale, CA who once attended UC-San Diego. Monnette is certainly not as well known to the public as Ivey. But some hard-core poker insiders suggest that Monnette might be close to Ivey in raw talent, and perhaps even better at Deuce-to-Seven Lowball, since be plays the game several times a week (Ivey admitted that he rarely plays the game – certainly a disadvantage). Known in some poker circles as "Crazy John," for his fearless nature at the table, Monnette started out playing the odd game at Oceans 11 Casino in Oceanside, CA and gravitated to the bigger game held at the Commerce Casino, in Los Angeles. He routinely plays $200-400 blind No-Limit Deuce-to-Seven Lowball with a $100 ante – a huge game by any measure.
· With his second-place finish, Monnette now has ten WSOP cashes. But cashing seemed to be the last thing on his mind after finishing second. Monnette is accustomed to daily swings the size of the first-prize payout.
· Yan Chen, from Irvine, CA finished in third place. Chen is another high-stakes Deuce-to-Seven specialist. He is arguably one of the most feared Deuce-to-Seven online players in the world. Chen is reported to have challenged anyone that he will play Deuce-to-Seven for any stakes. "He owns that game," said poker pro John-Robert Bellande.
· Lowball legend and wizard Billy Baxter was contacted during the match between the final three players. "I know them all well," Baxter said. "They are great players. I think the right three players made it to the final." Baxter even admitted from his Las Vegas home that he was following the match online while it was being played.
· Fourth place went to Eric Kesselman, who won his gold bracelet in Pot-Limit Hold'em at the 2006 WSOP.
· Raphael Zimmerman, from Missoula, MT finished in fifth place. Zimmerman is an avid poet. He has written six books full of poetry.
· The sixth-place finisher was Rondeen Talebi, from Los Angeles, CA.
· Seventh place went to Elia Ahmadian, from Fairfax, VA. This was his second WSOP final table appearance.
· Five-time WSOP gold bracelet winner Layne Flack, from Las Vegas, NV finished in eighth place.
· Five other former WSOP gold bracelet winners cashed in this event – including David Grey (11th), Freddy Deeb (12th), Chris Bjorin (13th), Barry Greenstein (18th), and Erick Lindgren (20th).
· The 20th-place finisher Erick Lindgren won last year's WSOP "Player of the Year" honors.
· Popular poker pro Vanessa Rousso cashed for the second time at this year's WSOP, finishing in 17th. She also cashed in the $40,000 No-Limit Hold'em Championship last week. Rousso is having a good year so far, as she finished second to Huck Seed in NBC's National Heads-Up Championship three months ago.
· Two-time winner Jon Phan was the defending champion from last year's comparable Deuce-to-Seven event, which was played as a Limit game. Three Deuce-to-Seven tournaments are scheduled this year, the most in WSOP history. This event was played as No-Limit. The Limit version of this same Deuce-to-Seven Lowball Draw game with a $2,500 buy-in will be played starting June 29th. The $10,000 buy-in No-Limit Deuce-to-Seven World Championship takes place starting June 10th.
· The undisputed king of Lowball games remained Billy Baxter, from Las Vegas, NV. The Poker Hall of Fame inductee entered this event, but did not cash. Baxter has won an astounding four Deuce-to-Seven titles during his lifetime and holds seven WSOP gold bracelets – all in various forms of lowball. This record of excellence in one variant of poker is unlikely to be challenged by anyone, other than perhaps Phil Hellmuth, for his 11 gold bracelets won in Hold'em. However, given that a far greater number of Hold'em tournaments are scheduled every year, Baxter's supremacy is unrivaled.
Odds and Ends
· Various Deuce-to-Seven tournaments have been a constant at the WSOP since 1973. In the past, Deuce-to-Seven has been played almost exclusively by high-stakes cash-game pros, and at the WSOP. This game is rarely spread inside public cardrooms -- either as cash games or tournaments. However, it is now becoming more popular as an online game.
· Deuce-to-Seven Lowball means the worst, or lowest-ranked hand wins the pot. The very best possible 2-7 lowball hand is 2-3-4-5-7 of mixed suits. An ace counts as a high card. Flushes and straights count against the player. While a wheel (A-2-3-4-5) is the perfect hand in standard lowball, in Deuce-to-Seven it is usually a losing hand since the straight counts against the player.
· There is some difference of opinion as to when and where this unusual game originated. Since the 1930s, variations of lowball have been spread throughout California and Nevada. According to poker theorist David Sklansky, Limit "Double-Draw" Lowball was first spread at the (now defunct) Vegas World during the early 1980s. Others cited a game called "Ten-Handed Triple-Draw Lowball" as the forbearer of Triple Draw, which was played at "Amarillo Slim's" Super Bowl of Poker tournaments in Reno and Lake Tahoe during the period 1979 through 1984. Yet ten-handed poker could only accommodate perhaps three or four players at most, due to the number of cards needed to complete a hand. Reducing the number of cards (to five) enabled more players to sit in the game. Thus the game as we know it exists today.
· This tournament almost certainly attracted the largest gallery in the game's history. The finale was played on the ESPN Main Stage. A standing-room only crowd watched the match from start to finish. Although each player had a rooting section, it was clear Ivey was the star attraction. His final presence guaranteed a full house who seemed to understand that poker history was being made.
· Bluff Media carried the event live as an Internet broadcast. This was the second live online show from the 2009 WSOP. At least 23 more events are scheduled, which are split between ESPN 360 and Bluff Media. For a complete broadcast schedule of all events, go to:
www.worldseriesofpoker.com/tourney/tourneydetails.asp?groupID=607
The Event
· The $2,500 buy-in Deuce-to-Seven No-Limit Lowball event attracted 147 entrants. This created a prize pool totaling $388,100. The top 21 finishers (three tables) collected prize money.
· The tournament was played over a three-day period. The final table was played on ESPN's Main Stage.
· At one point during three-handed play, Ivey had less than 8 percent of the total chips in play. He came within one hand of busting. But Ivey clawed his way back into contention and overcame each opponent one by one. To his credit, the runner up John Monnette was down by a 7 to 1 margin at one point and was able to regain the chip lead. But Ivey won most of the late pots and achieved victory.
· The final hand of the night came down to a single card when the players were somewhat close in chips. Ivey was dealt 7-6-4-2 and moved all-in. Monnette called the raise and showed 9-7-5-2. Ivey was the clear favorite, but Monnette was very much alive. But he caught a 7, which paired his hand (bad in lowball). Ivey caught a 5, which gave him a super-strong 7-6-5-4-2 – and the victory.
· The tournament officially began on Tuesday, June 2nd, at 5:00 pm. The tournament officially ended on Thursday, June 4th, at 10:45 pm.
WSOP Statistics
· Through the conclusion of Event #8, the 2009 WSOP has attracted 11,892 entries. $21,146 in prize money has been awarded to winners.
· Through Event #8, seven Americans have won gold bracelets. One Russian has won. No other nations have been represented at the WSOP gold bracelet ceremony, which takes place the day following the winner's victory.