LuckyAce Casino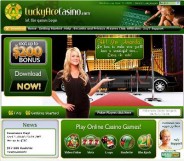 LuckyAce Casino is a new white-label casino that uses 888 software, the same platform that powers one of the oldest and most respected online gambling sites on the web, Casino-on-Net. LuckyAceCasino.com has all the most popular games including: BlackJack, Craps, Video Poker, Roulette, Keno and over two-dozen slot machines with better odds than a Las Vegas casino room. LuckyAce Casino does not accept US players.
LOS ANGELES, California -- As reported by The Associated Press: "Movie-goers laid their money down on "21," a gambling romp that was the weekend's box-office high roller with a $23.7


Kevin Spacey stars in the film based on the exploits of the MIT students who beat Las Vegas. million debut, according to studio estimates Sunday.
"Starring Kevin Spacey, Kate Bosworth and Jim Sturgess as math geniuses who make a killing at Vegas' blackjack tables, Sony's "21" bumped off "Dr. Seuss' Horton Hears a Who!", which had been No. 1 the previous two weekends.
"Hollywood started 2008 with a strong uptick in January, but revenues have trailed off steadily since.
"...The audience for "21" was split almost evenly between men and women and those older and younger than 25, according to Sony..."