More Book Reviews
Best Selling Poker Books of 2014
How did the new books compare to the old classics? Well, we will let the data speak for itself. Take a look at the list of the best selling poker books of 2014.
Deal Me In and Eat Professional Poker Players Alive Reviewed
There isn't a clear path by which people become professional poker players. There aren't any good courses at the local vo-tech for a person to study. The road to becoming a poker pro is inevitably difficult, circuitous, and filled with setbacks. Deal Me In is a book describing the course by which twenty top poker players became professionals.
Poker Winners Are Different
There is a big difference between what's typical human behavior and what is called for to play poker at a high level. There aren't a lot of people for whom maximizing their expectation in poker games comes naturally. Poker Winners Are Different by Alan Schoonmaker examines this conundrum.

Killer Poker by the Numbers
by Tony Guerrera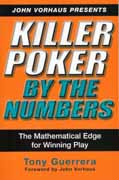 This new book by an exciting new author, CalTech graduate Tony Guerrera, introduces mathematical analysis as a vital tool in winning at no-limit hold'em. Seven major sections offer understandable material on probability, permutations, and combinations. Tony shows how to conduct solid analysis of hands, hand distribution, expected value, and how to apply these findings. Another section looks at unpaired & paired flops, followed by winning with pocket pairs (including flopping a set or better, and playing a set against made known hands). One chapter discusses drawing hands includes playing draws from early and late positions. Shorthanded play is discussed. Packed with charts & explanation, Killer Poker by the Numbers is a goldmine of mathematical ideas for gaining an edge, without intimidating formulas. The 8-page index makes it easy to locate a specific topic.
Read a review of Killer Poker by the Numbers

Play Poker, Quit Work, Sleep Till Noon!
by Jon Fox

Fox wrote this book when draw poker was in its heyday in California's cardrooms and it fast became the book to read if you wanted to compete in those games. Even though draw is not as popular as it once was, this book still stands out as one of the best books on the subject. Fox concentrates on the aspects of the game that are essential for pro players: position, frequency, distribution of playable hands (draws with bug), bluffing frequencies, eliciting calls, behavioral deductions, when to call. The book includes many math tables and dozens of psychological ploys. 343 pages, paperbound. 1977.

Gambler's Book Shop
The Gambler's Book Shop (or Club) is the world's oldest and largest shop devoted to gambling and all its related topics. Open since 1964, The Gambler's Book Shop has thousands of books covering over 30 different areas of gambling related subjects. Besides the usual topics that include all the casino games, poker, and horse racing, you will find books about math, probabilities, biographies and novels. If you can't visit in person, you can request a copy of their FREE Catalog (CALL 1-800-522-1777) or shop online from their web site. They also offer a free monthly electronic newsletter that features new arrivals.
We're not seeing many new titles so far in 2009. Maybe things will perk up a bit as the
World Series of Poker
action gets near a start in May. For now, though, I'll concentrate on one new book,

Howard Schwartz, the "librarian for gamblers," is the marketing director for Gambler's Book Club in Las Vegas, a position he has held since 1979. Author of hundreds of articles on gambling, his weekly book reviews appear in numerous publications throughout the gaming industry. Howard's website is www.gamblersbook.com
one classic, and one too-often overlooked title, all of which should enhance a
poker
player's game.
The first title is a fresh one. By the respected Alan Schoonmaker, it's titled
Poker Winners are Different
(310 pages, paperbound, $15.95) and subtitled Get the Mental Edge. Dr. Schoonmaker, who loves to play and loves to write (he also penned Your Worst Poker Enemy and The Psychology of Poker) has compiled two dozen fast-moving chapters that both challenge and teach.
Schoonmaker discusses the reason people play, how discipline plays a major role in your game and how to manage risks and information while honing your ability to control your focus.
The book is like a course in how to think logically, prepare, concentrate and probe. (After all, poker is a sort of war-a battle of individual skills versus the skills others bring to the table.) The subject of control is vital. The author emphasizes how winners control the information they transmit as well as how to be deceptive while creating the right images. He then turns to discuss how winning players control their reactions to feelings and how the best players have learned how to act decisively (timing when to be aggressive included).
Truly, poker is about getting the right cards and playing them correctly, but it is about people and reacting to them correctly. Watch the players when you're watching a televised
tournament
. The best, the long-term survivors and those who seem to cash the most have learned all the tricks and are constantly revising their mode of play according to the ever-changing table environment, shifting gears more times correctly than not.
This is a book to help improve your "inner self" and one to keep you honest in what your goals are and the way you must improve yourself to be among the best.
Tony Guerrera is a respected young author who is not yet a household name, but give him time. His
Killer Poker By The Numbers
(310 pages, paperbound, $14.95) is subtitled The Mathematical Edge for Winning Play. Briefly, the book's focus is on making profitable decisions in every betting round, how blind structures and table sizes affect play, how to best utilize concepts like expected value, pot odds and variance. It hosts eight chapters including one on tournament play while other major section focus on unpaired and paired flops, winning with pocket pairs, drawing hands and shorthanded play. It's a value for the price, so don't hesitate adding it to your poker library.
The late respected John Fox wrote the classic
Play Poker, Quit Work and Sleep Till Noon!
(343 pages, paperbound, $39.95). A whole generation of players has begun asking about it again, and Gambler's Book Shop uncovered a small treasure trove of copies recently. Subtitled The Complete Psychology, Mathematics and Tactics of Winning Poker, it's great value was in explaining and offering ideas on to confuse opponents. The book has one of the best early Frequency of Distribution of the Hands analysis ever done.
Focuses here is on high and low
five-card draw
(with and without the joker), for hold'em was is its infancy in regard to popularity. Sklansky's Hold'em poker classic was published about that time and then the game caught fire.
Fox likely inspired author Mike Caro to write his poker "tells" book, thus influencing a whole generation of players to learn about facial expressions, body language and how to use the information profitably.
If you've never read Fox's book, get one while the "gettin's good."