LAS VEGAS – As reported by the Associated Press "Jerry Yang, a 39-year-old psychologist from Temecula, Calif., won the main event of the World Series of Poker and its $8.25 million top prize.
"Yang,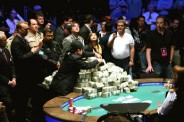 Jerry Yang is the 2007 WSOP Main Event Champion. who said he uses his professional training and reads of players as a weapon, vaulted quickly from eighth to the chip lead soon after play began Tuesday afternoon.
He knocked out seven of the eight other players at the final table, reminiscent of last year when Jamie Gold ran over his opponents. The main difference, Yang did it from the back of the pack.
"'The only way I would win this tournament is to be aggressive from the very beginning and that's exactly what I did,' he said.
"A Hmong person who grew up poor in Laos, Yang said before the final table began that he would donate 10 percent of his winnings to charity, including the Make-A-Wish Foundation, Feed the Children, the Ronald McDonald House and his alma mater, Loma Linda University.
"He won his way into the main event from a $225 satellite tournament at the Pechanga Resort & Casino in Temecula and only began playing poker two years ago.
"Yang began heads up play with a giant chip lead against Tuan Lam, a 40-year-old professional online poker player from Mississauga, Ontario. Yang had 104.5 million in chips to Lam's 23.0 million.
"On the last hand, with a huge mound of cash deposited on the felt, Lam moved all-in with an ace and queen of diamonds and Yang called with pocket eights.
"When a queen, five and nine came on the flop, it looked like Lam, waving a Canadian flag, would be on the verge of a miracle comeback, making a pair of queens for the lead.
"But a seven on the turn and a six on the river gave Yang a straight, sealing a win in which he dominated the final table from the moment the nine finalists sat down.
"'I've seen the miracles of God with my own eyes,' Yang said. 'I did a lot of bluffing also.'
"Lam earned $4,840,981 for his second place finish…"