STATELINE – As reported by the Tahoe Daily Tribune: "Sunglasses were glued to a kaleidoscope of faces while the clinking of chips filled the air outside Hard Rock Cafe at Harveys Resort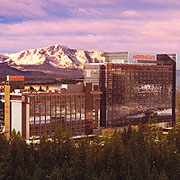 The final WSOP circuit event of 2005-2006 season is being held at Harveys Lake Tahoe. and Casino on Wednesday. That can only mean one thing: The World Series of Poker has returned to South Shore.
"The final WSOP circuit event of the 2005-06 season began on Tuesday at the Harrah's owned casino and will conclude with next weekend's $10,000 buy-in, ESPN-televised main event. For the second straight year, the poker universe is focused on Lake Tahoe.
"'It's very exciting and we're very pleased with the turnout we've had,' said Harveys' poker room manager Vince Contaxis. 'There's a lot of poker excitement going on right now.'
"During the first event of the 2004-05 WSOP Lake Tahoe Circuit Event, 542 players participated in the $200 buy-in, No Limit Hold'Em tournament, making it a Northern Nevada record.
"…While no first-day records were set this year, Harrah's gaming officials expect the crowds to swell significantly leading up to the first day of the main event. Poker superstars Robert Williamson and Daniel Negrenau are scheduled to participate in the big-money tournament, which could award the winner $500,000.
"…This week's circuit event in Lake Tahoe is the final stop of the season before the 2006 Tournament of Champions is held at the Rio in Las Vegas. However, the 2006-07 WSOP circuit season will begin at Lake Tahoe as the first stop of the tour. It is scheduled for September at Harveys.
"…In addition to the 12 qualifiers from the circuit events, the 27-player field will also include all nine players from last year's TOC main event final table and six invited players.
"That means this week is the last chance for a player to qualify for that $2 million free-roll event, and then the 2005-06 season will conclude with the TOC in July in Las Vegas. But the end of the season is thousands of poker hands away and Harrah's registration officials are gearing up for a busy week in Tahoe…."
Harveys Lake Tahoe
Highway 50 and Stateline Avenue
PO Box 128
Stateline, NV 89449
Phone: (775) 588-2411
Toll Free Phone: (800) 553-1022
Fax: (775) 588-6643
Website: www.harrahs.com/our_casinos/hlt/

Harveys Resort & Casino is located on the pristine shores of America's largest alpine lake. The property features 740 deluxe rooms and suites, six restaurants, and 52,500 square feet of casino excitement.