The following article was written by Nolan Dalla, the media director for the World Series of Poker.
There's no way to measure the influence of family on one's performance at the poker table.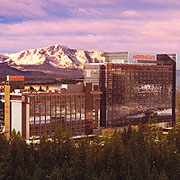 The final WSOP circuit event of 2005-2006 season is being held at Harveys Lake Tahoe.
But it's surely significant. Some poker players are blessed to have the full support of a close family when traveling and playing in tournaments. Other players are not quite so lucky.
Clint Baskin is one lucky man. He started playing poker 25 years ago. He was taught how to play by his great-grandmother. Although many years have since passed, she could not have possibly foreseen the windfall those early poker lessons would eventually produce. With at least a dozen family and friends cheering his every move, the 32-year-old plumber from Stockton, CA, won his first major poker tournament at Harvey's Lake Tahoe and collected the largest poker prize of his life – a whopping $372,240 in cash.
Heavenly Lake Tahoe was the final stop on the 2005-06 World Series of Poker Circuit. The Harvey's Casino-Resort (owned by Harrah's Entertainment) hosted the last major poker event before the 37th annual World Series of Poker in Las Vegas, which starts later this month. This was the second-consecutive year that Harvey's has hosted a WSOP Circuit event.
This year's $10,000 buy-in championship began with 110 entries, creating a total prize pool of $1,034,000. Two former world champions entered the main event -- 2000 world poker champion Chris "Jesus" Ferguson and 1995 world poker champion Dan Harrington. Former WSOP gold bracelet winners included Billy Baxter, "Miami John" Cernuto, Allen Cunningham, Chau Giang, Barry Greenstein, John Juanda, Daniel Negreanu, Erik Seidel, and Bob Stupak.
However, none of the "poker superstars" made it to the final table. In fact, the nine finalists consisted of just two players who had previously won WSOP-connected events. J.C. Tran (winner at the Rio Las Vegas in 2005) and Jamin Stokes (winner at Caesar's Indiana in 2005) arrived at the final table with gold rings. But all eyes were on a relative newcomer to the tournament scene -- Brian Fidler, a 27-year-old accountant from Stamford, CT. Fidler arrived on the final day with a mountainous chip lead – nearly 2 to 1 over his closest rival. Local poker player Tony Le was second. Clint Baskin came to the final table third in the chip count. Predictably, these would be the top three finishers.
Ten hours and nearly 250 hands later, Baskin had every chip on the table and was the last man sitting. Players were eliminated in the following order:
9th Place – It took an hour before the first player was eliminated. Jamin Stokes took a bad beat when he was low on chips and moved all-in with A-10. Robert "RCW" Cheung called holding A-9. It didn't matter that Cheung's weaker hand was dominated. A nine flopped giving Cheung a pair and Stokes failed to improve. The final board showed J-9-2-4-5 giving Cheung the 130,000 pot. Jamin Stokes, age 25, had previously enjoyed the taste of victory on the World Series of Poker Circuit. He won the $1,500 buy-in no-limit hold'em event at Caesar's Indiana last year. But he could do no better than 9th-place in this event. He collected $31,020.
8th Place – Down to eight players, Matt Russell went from the lowest stack and doubled up to 135,000 on a big hand. But that would be his high-point for the tournament. Russell played his final hand when he made a pre-flop raise with 9-9. Clint Baskin re-raised 90,000 more, enough to put Russell all-in. Russell called. Baskin showed A-K. Russell looked to be in great position with his pair with the board showed Q-7-5-2 on the turn. But Baskin spiked a deadly ace on the river (good for a pair of aces), and Russell was rudely eliminated. Matt Russell, a 28-year-old real estate investor from Houston, was playing in his second-consecutive WSOP Circuit main event. He finished third at the Bayou Poker Challenge held last month in New Orleans. Incredibly, Russell now has 3rd and 8th place finishes in the only two WSOP-related events he has ever entered. He received $41,360 in prize money.
7th Place – Players traded-off chips for what seemed like an eternity. It seemed that no one wanted to be the unlucky seventh-place finisher. Entering the fifth hour of play, Joe DuBois was getting low on chips and called an all-in re-raise holding A-Q. It was the right decision, at the wrong time. Clint Baskin, holding A-9, was at a sizable disadvantage to his opponent's A-Q. But the poker gods smiled on the man who would eventually be crowned king. Baskin watched with delight as the turn brought a nine, making a pair. Another nine on the river added insult to injury, and DuBois was out. Joe DuBois was the youngest player at the final table. The 21-year-old University of Wisconsin student earned his entry to play in this tournament at an online site. Incredibly, DuBois invested just $10 in an online tournament and walked away with $51,700 for 7th-place.
6th Place – The bad beats continued. At the start of the day, J.C. Tran had to like his chances against this field. He arrived with the greatest depth of tournament experience – with three WSOP final tables, three WSOP Circuit final tables, and one Circuit win. Unfortunately, there is little defense when holding a big pair versus a set. Tran was dealt Q-Q, made a pre-flop raise, and called an all-in re-raise by Justin Scott. Tran was thrilled to see his pocket queens go up as a heavy favorite over Scott's 4-4. But the two queens were steamrolled when the flop came 9-8-4, giving Scott a set of fours. Tran failed to catch one of two remaining queens and went out in disappointing fashion. Sixth place paid $62,040.
5th Place – Clint Baskin seized the chip lead. That lasted just three hands. Brian Fidler, the chip leader from the onset, had played cautiously during the first half of the finale. But watching rival Baskin play aggressively and take over the chip lead for the first time ignited a rush that eliminated the next player. Justin Scott was dealt 10-8 in the big blind. He made an all-in semi-bluff when the flop showed J-9-2. Scott had an outside straight draw. Fidler didn't hesitate more than a second to make the call, holding pocket aces. With Scott's tournament life on the line, he desperately needed a seven or queen to complete the straight. But two blanks fell and Scott was bounced off the final table. Most interesting was Scotts admission that he suffered a disappointing series of preliminary tournaments coming into this main event. Beforehand, he stated he needed to finish "sixth place or better just to break even." Since he finished precisely one place higher (fifth), Scott walked away as a winner. Sixth-place paid $72,380.
That pot gave Fidler about 800,000 in chips to Baskin's 650,000 – with Robert Cheung and Tony Le still battling for third and fourth.
4th Place – Robert W. Cheung (a.k.a. "RCW") had been the chip leader after Day One. But he could not maintain that momentum and failed to make a serious bid for the chip lead at the final table. As the hours passed, Cheung watched helplessly as his chips slowly drifted away. Fed up with the hemorrhaging, Cheung made a bold all-in move before the flop with Q-J which was called and covered by Clint Baskin with A-8. Cheung watched in frustration as the board came A-10-5-7-A, giving Baskin trip aces. Cheung, a 45-year-old businessman from Vancouver, British Columbia, exited in 4th-place. Cheung eearned his way into this event via a $200 buy-in satellite held at Harvey's Lake Tahoe. That investment paid off nicely, with a prize good for $82,720.
3rd Place – Clint Baskin became even more aggressive and gradually re-took the chip lead. He became the first player to top the million-chip mark after Cheung was eliminated. Thirty minutes later, Baskin was up to 1,200,000 in chips. Tony Le must have felt like little David trapped between two Goliaths. He was down to about 150,000 while his two opponents had most of the chips in play. But there would be no mythological poker magic by the Reno local on this night. After struggling to stay alive for about 20 hands, Le finally moved all-in with J-10. Clint Baskin looked down and was staring back at two black aces. The call was instantaneous and paved the road to Le's exit. The final board showed 6-6-4-8-10 giving Baskin the pot. Le, a 40-year-old games supervisor from nearby Reno, earned $113,740 for 3rd place. It was time for the two Goliaths to battle.
When heads-up play began, Clint Baskin enjoyed about a 3 to 2 chip advantage over Brian Fidler – 1,371,000 to 831,000. Like two boxers circling the ring, half an hour passed before the first major confrontation. Baskin landed the first punch when his trip deuces topped Fidler's two pair. Baskin was up to nearly 1.6 million in chips. Then, the knockout punch came.
2nd Place – The final hand came out of nowhere. With the clock about to strike midnight, Fidler was dealt Q-9. Baskin was dealt A-4. Baskin made a raise and Fidler called. The flop came 9-6-5. Fidler had top pair and bet 17,000. Baskin called. A deuce on the turn gave Baskin an inside straight draw. Fidler bet 50,000 and Baskin called. "I knew that if I caught a three or an ace, I would win (the tournament)," Baskin explained afterward. "It didn't cost me that much to call, so I did." Baskin's call turned out to be a brilliant decision.
A three fell on the river. The final board showed 9-6-5-2-3 giving Baskin a straight – ace to five. Fidler pushed all in. Baskin announced "call," and raised his two arms high into the air. Baskin flipped over his hole cards and his cheering section went wild. Clint Baskin was the winner.
Fidler fell off the roof and ended up as the second-place finisher. Nevertheless, this was a major breakthrough for the 27-year-old accountant from Stamford, CT. Fidler won an online tournament which gave the winner a full-year of poker lessons from poker pro Daniel Negreanu. Fidler has thus become known as "Protégé," for his affiliation with his poker mentor Negreanu. Both could be extremely proud of Fidler fine performance. He collected $206,800 for second place.
1st Place – The winner was barely able to speak following his victory. A mountain of chips was pushed in front of Baskin as he smiled for photographers. ESPN cameras were present to record Baskin's greatest poker moment.
Clint Baskin is married and has two children. He won his seat into the main event via a $200 buy-in super satellite. Baskin collected $372,240 for first place. He also won the prestigious gold and diamond ring presented to each and every World Series of Poker Circuit champion.
Next week, Baskin will travel from Lake Tahoe to Las Vegas to compete in the 2006 Tournament of Champions. The TOC, hosted by the Rio, is a $2 million freeroll for 27 top players, including the previous winners of all 2005-06 WSOP Circuit events. He will compete against the likes of current world poker champion Joe Hachem and other famous poker celebrities. Baskin is sure to enjoy the powerful momentum of this victory. The bigger question is – can he parlay a $200 super-satellite seat into a million dollar top prize?
One thing is for certain – Clint Baskin's family will be cheering him every step of the way.
Harveys Lake Tahoe
Highway 50 and Stateline Avenue
PO Box 128
Stateline, NV 89449
Phone: (775) 588-2411
Toll Free Phone: (800) 553-1022
Fax: (775) 588-6643
Website: www.harrahs.com/our_casinos/hlt/

Harveys Resort & Casino is located on the pristine shores of America's largest alpine lake. The property features 740 deluxe rooms and suites, six restaurants, and 52,500 square feet of casino excitement.